Hey lovely MTK readers!  Doree from Top Notch Mom here today, excited to share my Cheesy Cauliflower Soup with you. These past few weeks have been super cold where I live, and the weather reports don't seem to be getting any better so I figured why not share this hot and delicious Cheesy Cauliflower soup with all of you. It will be sure to warm you up! Serve it with some sourdough bread and you've got yourself a tasty, quick, and easy dinner.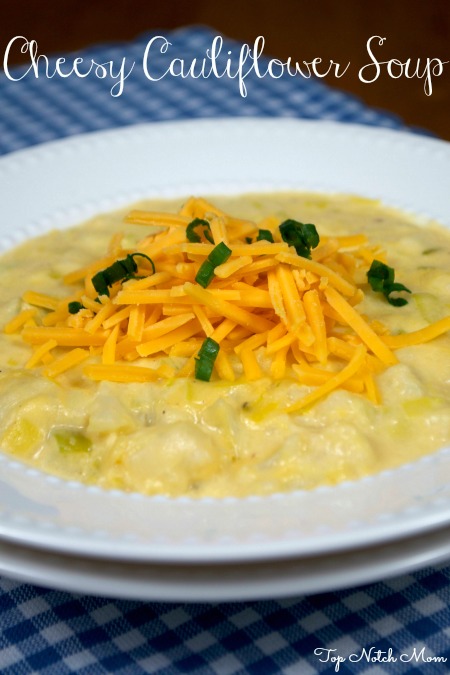 Ingredients
2 TBS extra-virgin olive oil
2 large leeks-rinse and slice the white and light green part thinly
4 C chopped cauliflower florets
2 + 1/2 C milk
2 C water
1 fresh bay leaf
1 TSP salt
1/2 TSP pepper
3 TBS all-purpose flour
1 + 1/2 C shredded sharp cheddar cheese plus more for topping
1 TBS lemon juice
Instructions
Heat oil in a dutch oven or large pot over medium heat
Add leeks and let cook on low for 5 minutes stirring occasionally until soft
Add cauliflower, 2 cups milk, water, bay leaf, salt & pepper
Bring to a boil over medium-high heat, stirring occasionally
Once it's boiling reduce heat to simmer and cook about 8 minutes or until cauliflower is soft, stir occasionally
While the soup is simmering combine 1/2 C milk + 3 TBS flour in a small bowl
Once cauliflower is soft remove bay leaf and stir in 1/2 C milk and flour mixture and cook over medium heat until soup has thickened (about 2 minutes)
Remove soup from heat and stir in cheese and lemon juice
Top with sliced green onions and cheddar cheese if desired, enjoy!
http://momstestkitchen.com/2014/02/cheesy-cauliflower-soup.html