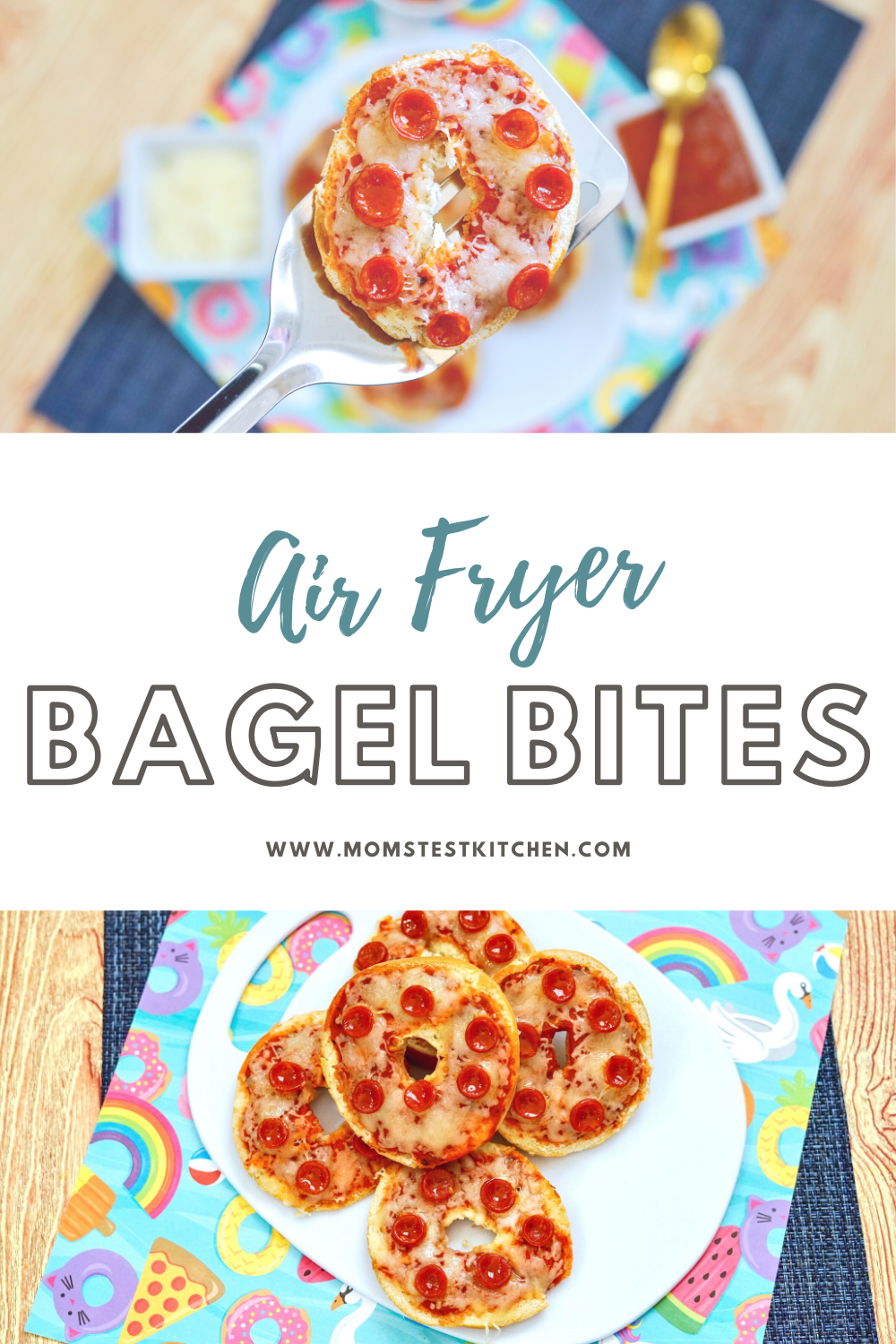 The kids are going to love these Homemade 4-ingredient Air Fryer Bagel Bites! Since they take only 5 minutes to cook, they are the perfect solution for an easy lunch!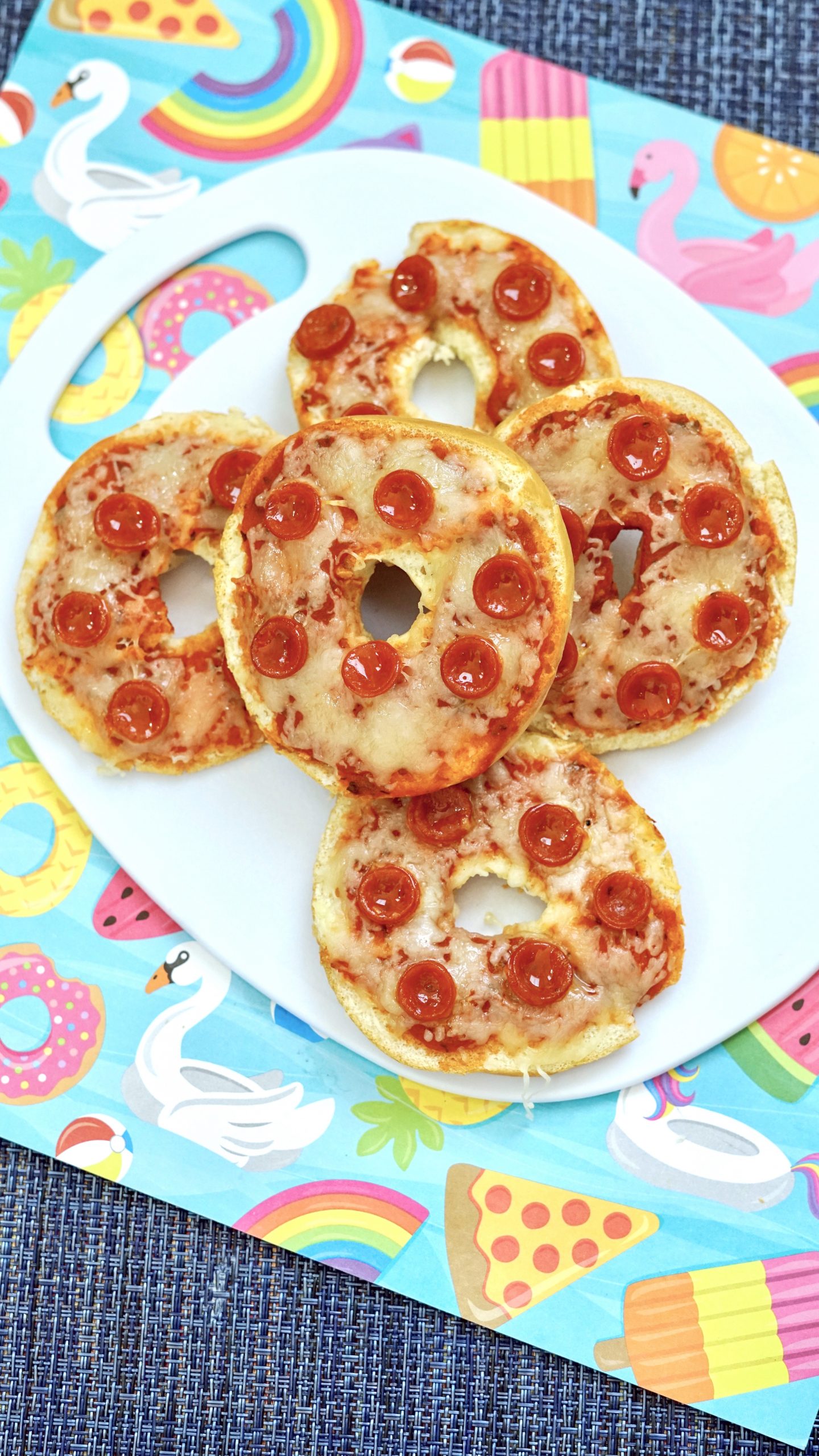 A meal easy enough for the kids to make themselves!
Since we've been home a whole lot more these past 6 months, I've really been working with PJ to teach her how to do things on her own. She's learned how to wash and dry her own laundry. We've also been working on learning how to make herself simple meals, like chicken nuggets or a grilled cheese. I'm still working full time so mom can't make 75 million meals every day.
These Air Fryer Bagel Bites are also on the list of things she can make herself. They are insanely easy to make and the toppings can be switched out to suit everyone's preference.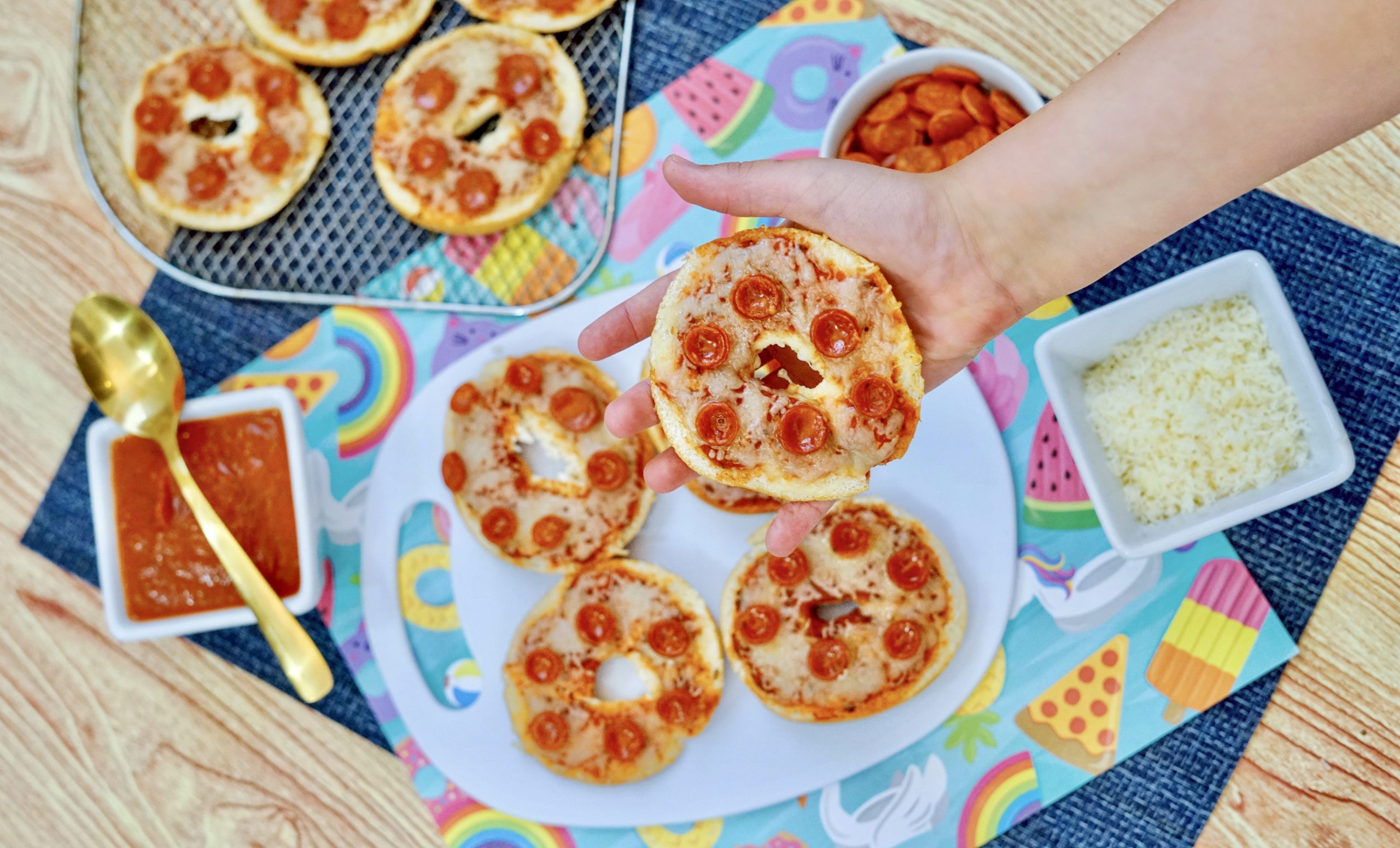 How to get 'em done:
Slice 'Em : it's as simple as that. Take your mini bagels and cut them in half. Unless you've got the fancy kind of bagels that are already precut. Then you can skip ahead. *This might be the only step you would need to provide assistance with the kiddos if you aren't ready for them to use a bread knife just yet.
Top 'Em : spread your favorite pizza sauce over each half of the bagel. We didn't have actual pizza sauce in the pantry, so we used spaghetti sauce. Still delicious. Cover the sauce with your cheese. Then add on your favorite toppings. That's one of the great things about these being homemade. You can customize them to everyone's liking! Throw on some onions, or sausage. Maybe even some bacon?? So many options!
Cook 'Em : Pop those bagel bites into the air fryer and air fry for about 5 minutes at 360 degrees. Keep an eye on them since each air fryer is different – you want the bagels to get toasty and the cheese to be melted.
No Air Fryer?
First let me say if you don't have an air fryer yet, you've got to invest in one! Between my Instant Pot & Air Fryer, I haven't used my oven in months! It's so nice in this Texas summer. But seriously, we use our air fryer for everything – chicken nuggets, french fries, quesadillas, hamburgers. The list can go on and on.
Now to the baking : place the bagel bites on a baking sheet and cook for about 8-10 minutes as 450 degrees. Again, you want the bagel toasted and cheese melted.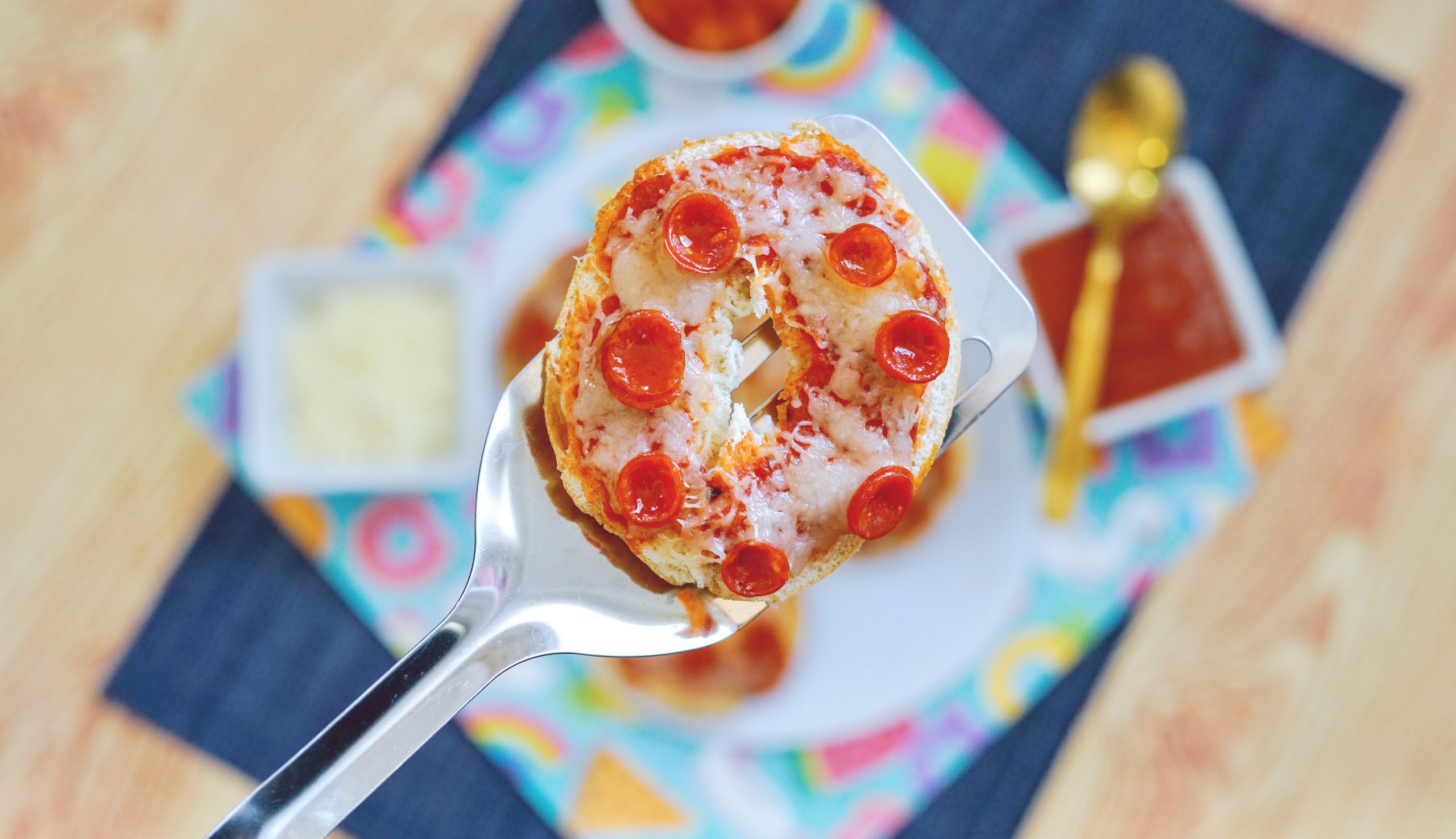 Leftovers & Make Ahead
If for some reason you do end up with leftovers, they need to be stored in the fridge. You can warm them back up in the air fryer or oven for a couple of minutes until they are warmed through or even pop them in the microwave. Forewarning – you'll lose any 'crispiness' that the bagels have if you do use the microwave.
Leftovers will keep in the fridge for a few days.
You also can always freeze these before cooking to have extra snacks or an easy meal on standby. Assemble them the same way, then place them on a baking sheet to flash freeze. Once they are fully frozen, simply put them in an air tight container or a ziploc bag and you're ready to go.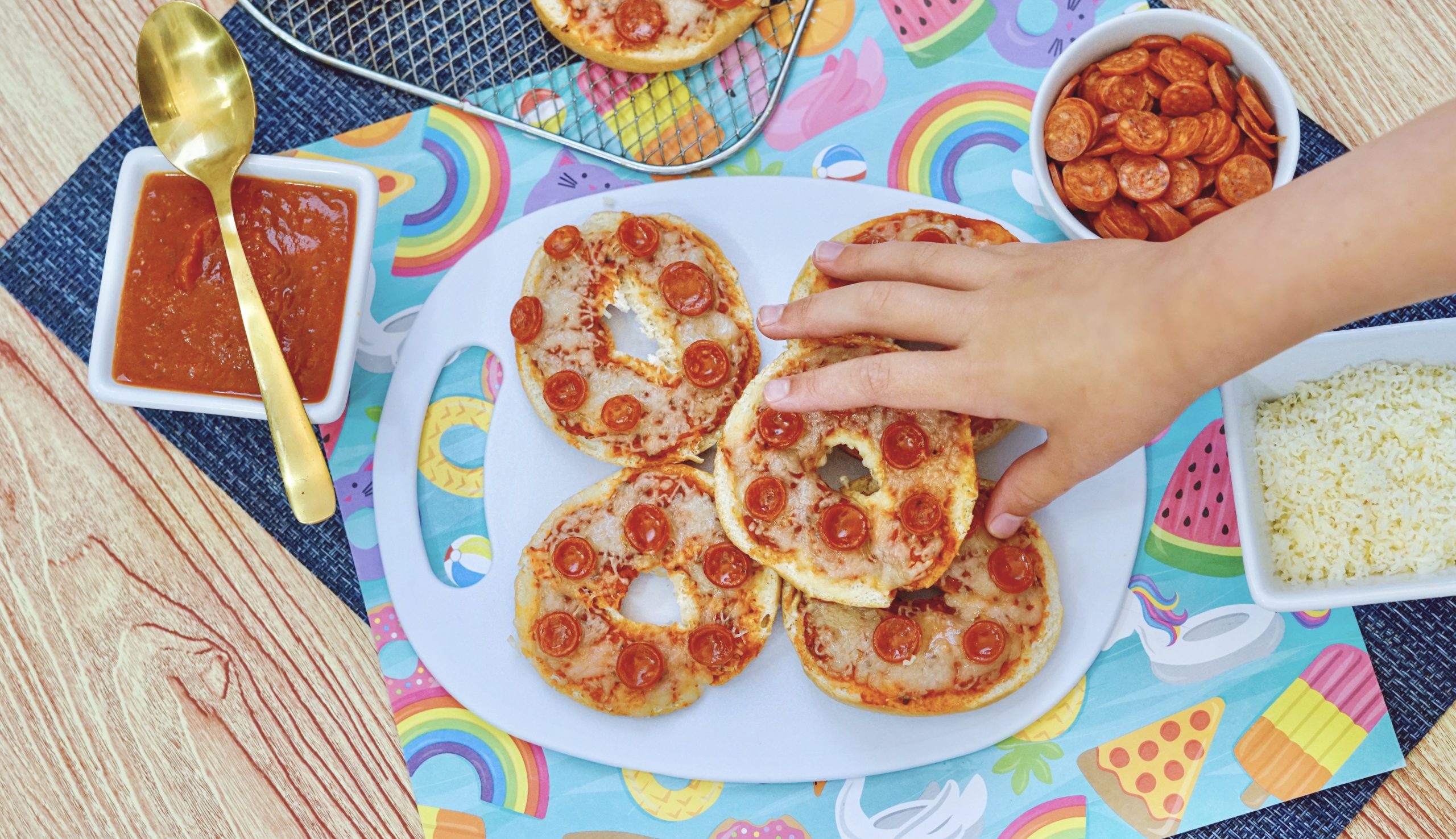 For More Pizza Recipes, Try These:
Recommended Equipment: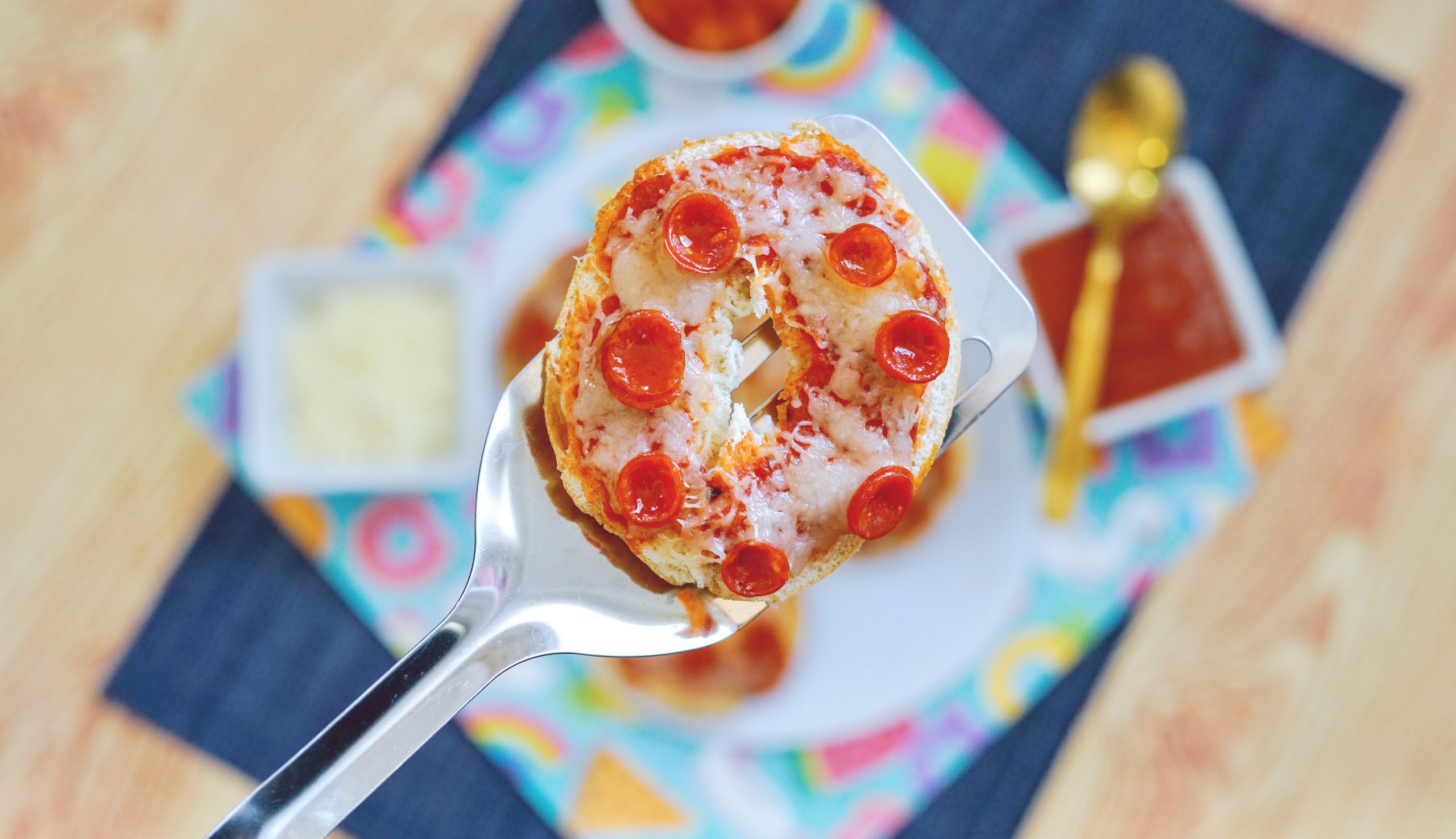 Air Fryer Bagel Bites
Ingredients
Mini Bagels

Pizza Sauce

Mozzarella Cheese

Mini Pepperoni

or your favorite pizza toppings
Instructions
Slice your bagels in half.

Coat the bagels with pizza sauce. Sprinkle with cheese.

Place the pepperoni and any additional toppings on top of the cheese.

Place the bagel bites on the air fryer rack and air fry for 5 minutes at 360 degrees. Keep an eye on them to make sure the cheese doesn't burn.
Thanks for stopping by!