Chicken, Bacon & Rice Skillet Meal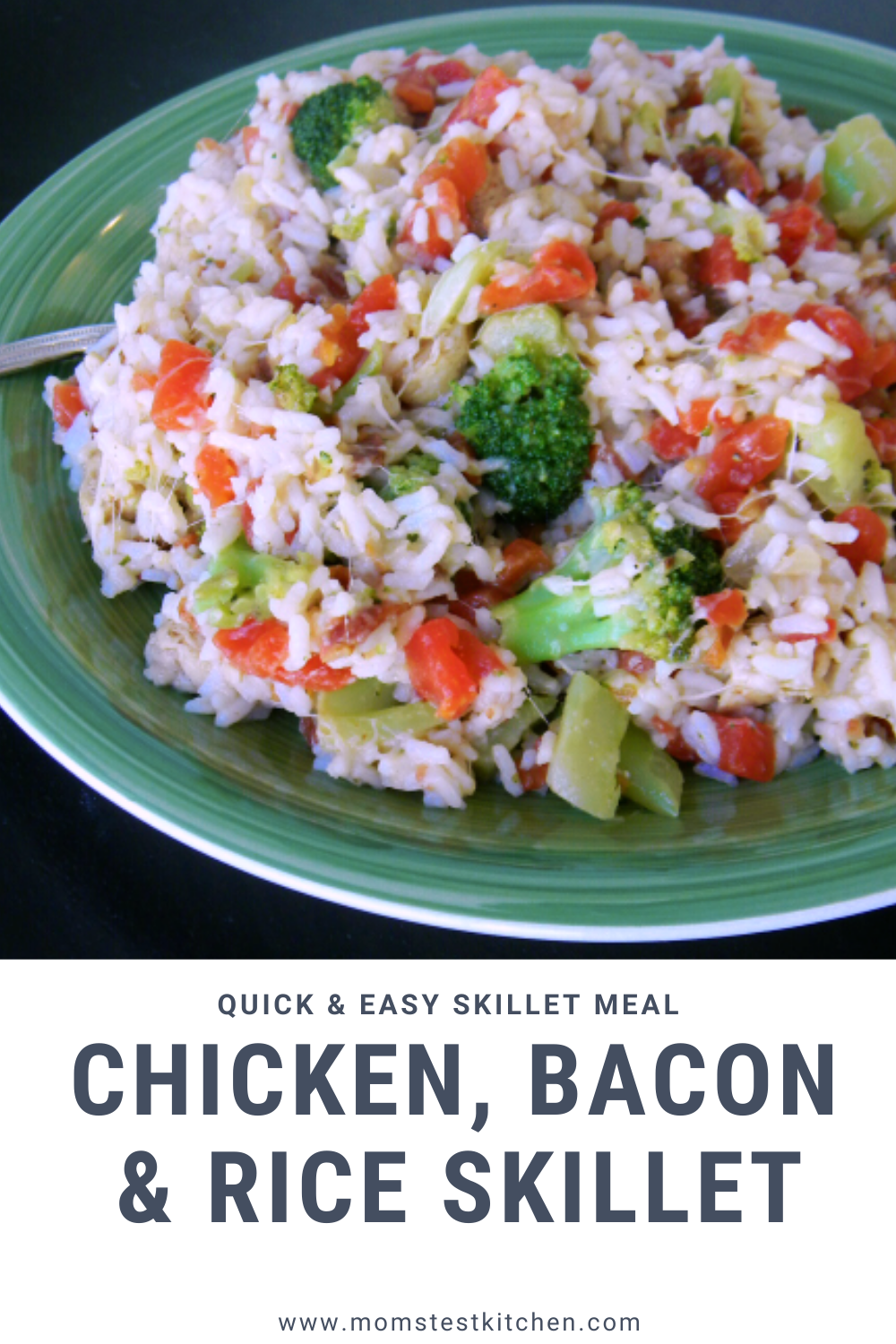 If you like quick and easy recipes, you will LOVE this Chicken Rice Skillet Meal packed with the delicious extras of Broccoli and Bacon!
Rice scares me. Maybe scares isn't the right word. Terrifies. Rice terrifies me, that's probably more appropriate. I am somehow incapable of fully cooking rice. There are always those crunchy pieces still left. It's truly gross. I blame it on my pots. It is in no way a user error.
When I was given the opportunity to try Minute Rice, I'm not going to lie, I was a little apprehensive. How was I going to get this rice cooked? Were y'all going to realize that I can't even cook rice properly so why in the world do I have a food blog?? And, then, after reading the directions for cooking the rice? I was even more terrified. I knew I was just going to end up with a big pot of inedible crunchy white rice.

But y'all, Minute Rice is AWESOME! The only thing I had to get right was boiling some water. Boil water, drop in rice, let it sit for 5 minutes & BOOM ~ I had a pot full of soft, fluffy, fully cooked rice!! I may or may not have danced around my kitchen. Which may or may not have caused the Mister to look at me like I was crazy. Until he tasted my fully cooked rice.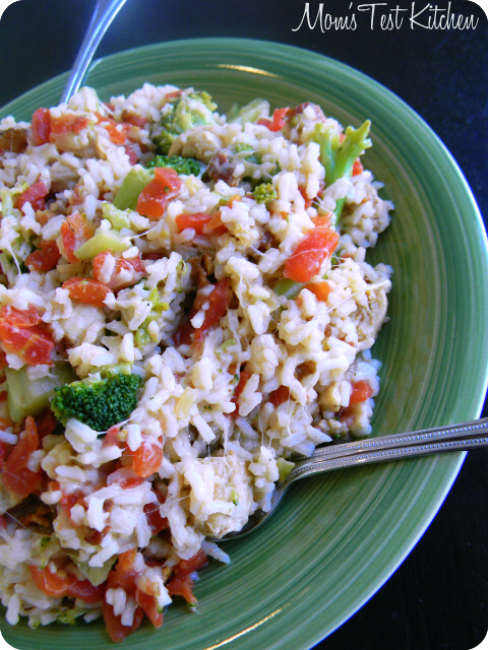 Chicken, Bacon & Rice Skillet
If you like quick and easy recipes, you will LOVE this Chicken Rice Skillet Meal packed with the delicious extras of Broccoli and Bacon! 
Ingredients
10

slices

bacon

diced

3/4

pound

boneless, skinless chicken breast tenders

cut into bite-sized pieces

3

tablespoon s

butter

divided

1

onion

chopped

1

bag

frozen broccoli

12 ounces

4

cloves

minced garlic

2

cans

diced tomatoes and green chilies

undrained

2

cups

Minute White Rice

2

cups

water

2

tablespoons

flour

1

cup

chicken broth

1

cup

mozzarella cheese

finely shredded

salt & pepper to season
Instructions
Add the diced bacon to a very large skillet and turn heat to medium high. Cook the bacon until crisp, stirring occasionally. When the bacon is crisp, remove to a plate using a slotted spoon or tongs. Add the chicken in a single layer to the same skillet and cook for five minutes or until no longer pink, flipping once halfway through. Remove the chicken to the plate with the bacon. Drain grease from bacon & chicken or you can use the grease to cook the veggies in.

Melt 1 tablespoon of butter in the same skillet where you cooked the bacon & chicken (unless you are just using the grease from the meat) and add the onion and broccoli to the skillet. Cook over medium-high heat, stirring occasionally until broccoli is tender and onions are brown and caramelized. Add in minced garlic and cook, stirring constantly until just fragrant, about 30 seconds.

While your vegetables are cooking, bring the two cups of water to a boil in a medium saucepan. Stir in the rice, cover & remove from the heat. Let stand for five minutes or until water is absorbed. Then fluff the rice with a fork.

Top the broccoli and onions in skillet with tomatoes, rice, chicken and bacon and stir to combine. Reduce heat to low to keep warm.

Melt the remaining two tablespoons butter in a small saucepan and whisk in the flour until just combined. Add in the chicken broth and stir well. Increase heat to high and cook until thickened and bubbly. Remove from heat and add in the cheese and season to taste with salt and pepper. Stir until the cheese is melted, then pour in the skillet with the chicken and rice. Stir to combine and serve.
Other Recipes You Might Like:
Minute® Rice is so quick and easy to prepare and is great pantry staple. When meal time seems like a hassle, Minute® Rice is a go-to ingredient your whole family will love and allows you to have more quality time doing what your want with your loved ones.
Leftover rotisserie chicken or veggies from a meal earlier in the week? Minute® Rice can easily be paired with some of your leftover ingredients to make a quick, easy and wholesome meal your whole family will love in just a matter of minutes.
Visit https://www.minuterice.com/ to create a great main meal or side dish for your next family get-together or potluck.
Thanks for stopping by!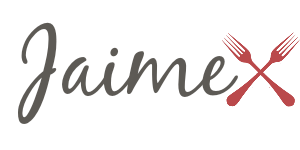 DISCLOSURE:
This is a sponsored post written by me on behalf of Minute® Rice. All opinions are my own.