#MeatlessMonday Mexican Pizza
So, this is what we had on Cinco de Mayo. Looks tasty doesn't it? I've actually never made a Meatless Mexican Pizza. Actually, I've never made a Mexican pizza…ever. I have no idea what I was waiting for. This was pretty darn deliciously filling!
I made one of my sourdough pizza dough. It was really tasty but not sure it was the best choice for this recipe. I'd suggest a regular pizza dough. Just saying.
I struggled with what to put in place of the pizza sauce. I thought, "Salsa? Plain crushed tomatoes?" Then it hit me! Why not mix beans and salsa, NO! Beans and enchilada sauce as the base! Yes! That's just what it needed. I wanted the refried beans there somewhere and it's not effective to try to spread them on the dough. Seriously. Have you tried to spread those things anywhere without thinning them out? Not gonna happen. So, I thought we'd thin them with enchilada sauce and make them spreadable. Perfect!
Then I thought about all the ingredients that we usually put on tacos or in enchiladas and just came up with a delicious list of ingredients to top the pizza with. I like the addition of both green onions and red onions. The red onions add a nice bite and the green onions a nice mellow onion flavor. Both together really do complement each other. Since I wasn't sure if all those toppings would be filling enough for S, I added whole beans to the list for some more protein. Since I'm not so sure how he'd react to veggie based meat products, I opted for just beans and not veggie meats.
Not that I have anything against veggie meats. I mean, my favorite corn dog product is the Morningstar corndog. It's SO tasty and healthier. Not to mention they have corn dog nuggets. YUM! I you haven't tried them, you really should. They're delicious!
Just like this pizza!! Since I had some queso fresco in the fridge from the arepas, I thought I'd chunk it up and sprinkle it on top. It adds a nice, creamy cheese topping to the pizza. The perfect final touch to this delicious pizza. It was pretty darn good for lunch the next day, too.
If you have never tried a Mexican pizza or made a Mexican pizza, what are you waiting for?? They're delicious and super easy to put together. I'd be willing to bet you have most of the ingredients already. You just need you grab one of your favorite pizza dough and get cooking!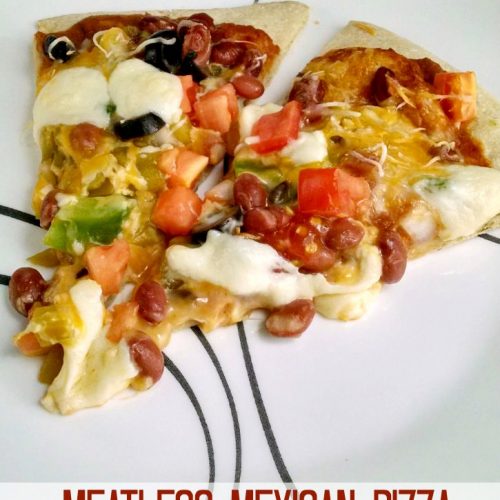 #MeatlessMonday Mexican Pizza
Ingredients
1

large pizza dough

1/2

cup

red enchilada sauce

1/2

cup

fat free

vegetarian refried beans

1

teaspoon

chili powder

1/2

teaspoon

ground cumin

1/8

teaspoon

cayenne pepper

1

cup

Mexican blend cheese

1

cup

canned pinto beans

rinsed and drained

1/2

cup

diced red onion

1/2

cup

diced green bell pepper

1/4

cup

sliced green onions

1/2

cup

green chiles

1

large thinly sliced tomato

1/4

cup

sliced black olives

1/2

cup

queso blanco
Instructions
Preheat oven to 425.

Roll out the pizza dough to 12 inches. Sprinkle a peel or baking pan with cornmeal and place the dough on top.

Combine the enchilada sauce with the refried beans, chili powder, ground cumin and cayenne pepper. Spread the bean mixture in a thin layer making sure to leave 1/2 to 1 inch crust edge.

Sprinkle 1/2 cup of cheese, pinto beans, onion, bell pepper, 1/2 cup of cheese, green chiles, green onions, tomatoes, black olives and queso blaco.

Bake at 425 until the crust is lightly browned and the cheese is bubbly and melted. Allow to cool slightly before serving.