Waffle Sushi #WaffleWednesdays
Welcome to #WaffleWednesdays y'all!! I have partnered with Kellogg's to be a Chief Waffle Officer which means I will be sharing Eggo waffle recipes here every Wednesday for the next eight weeks!! But don't expect eight weeks of boring, waffle-filled breakfasts! We're thinking outside of the box & cooking up your favorite desserts, game day snacks & holiday treats all using waffles!!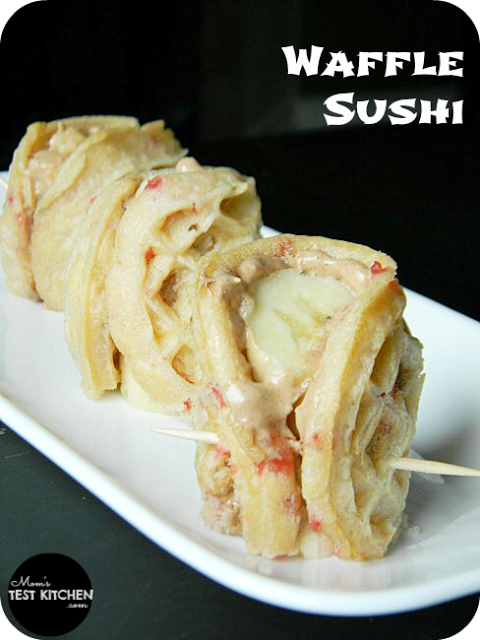 So this week we are talking about back to school snacks. The kids have all headed back to learning & they come home in the middle of the afternoon and they are hungry. You want to give them something filling, something that will get their energy back up so they can tackle their homework but you also want to give them something fun right? They've just spent all day sitting in a class room (which we won't tell them now but we all remember, that's not fun) so we want to brighten their days a little. Let them play with their food mom!! 🙂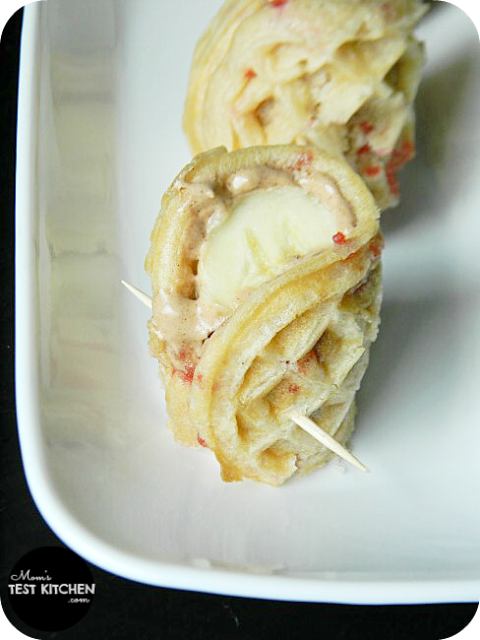 So how about you take one of their favorite breakfast foods & turn it into a fun, healthy snack they will love!!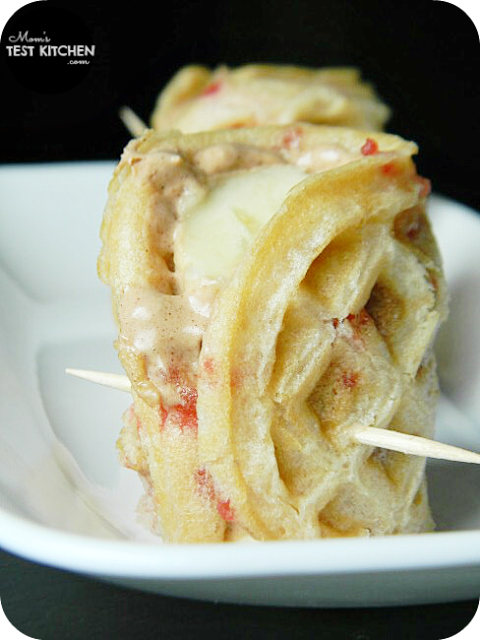 WAFFLE SUSHI
YIELD:

1 serving
INGREDIENTS:
2

Eggo Strawberry Streudel Wafflers (4 waffle bars)

1

large banana

1/2 cup

Cool Whip

1 tablespoon

Nutella
COOKING INSTRUCTIONS:
Toast the Eggo Wafflers in the toaster on the lowest setting so they are no longer frozen but not crispy. You want them to remain soft. Slice your banana into 4 equal sections, about 1 – 1&1/2 inch, about the same thickness as the waffler. In a small bowl, mix together the Cool Whip & Nutella until well blended.
Once the waffler is done toasting, flatten it using either a rolling pin or your hands. Spread a thin layer of the Cool Whip mixture onto the waffler. Place a banana slice onto the center of the waffler. Wrap the waffler around the banana, overlapping the edges so it resembles a sushi roll. Secure with a fun toothpick. Serve with the remaining Cool Whip mixture to dip the waffle sushi in.
THIS POST PROUDLY SHARED AT THESE PARTIES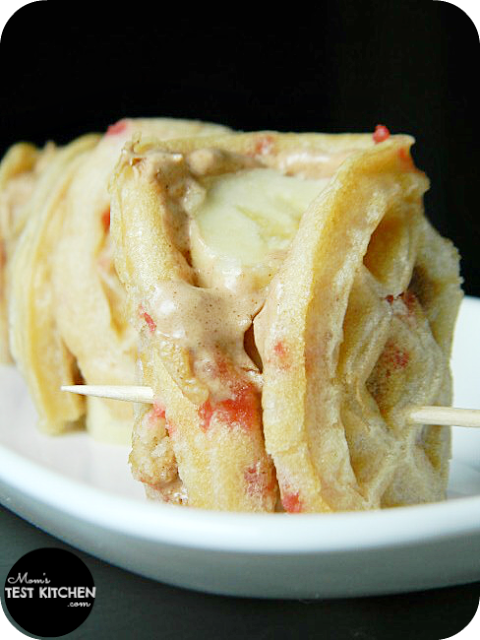 Now what kid wouldn't love to come home to this treat in the afternoons??
Next week, we'll be talking desserts!! What's your favorite dessert? Any dessert you'd like to see me try to make over using waffles?? I'd love to hear your ideas & suggestions!!
You don't have to wait for #WaffleWednesdays to get your grub on – head on over to Eggo's Facebook page and enter the Great Eggo Waffle Off! contest by submitting your own waffle recipe creations for a chance to win 5k!!
Be sure to stay connected on social media for all the latest recipes & behind the scenes fun!








Disclosure:
Kelloggs sponsored this post & provided me with compensation to develop this Eggo Waffle recipe. All opinions are, of course, 100% mine.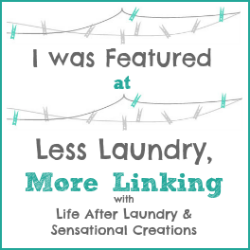 CHECK OUT THIS MONTH'S SPONSOR