Sopapilla Cheesecake : Crazy Cooking Challenge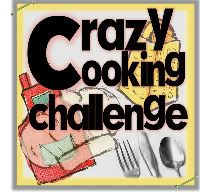 I can't believe it's already been a month y'all! I feel like we were just talking about all the Fried Chicken recipes and boom, now we're on to dessert!
I'm not going to lie, I was not overly thrilled when I saw that cheesecake was this months challenge. I am not a lover of the cheesecake. You can pretty much just classify me as a hater. I just don't like cream cheese at all. And it doesn't matter what you add to it, for some reason that's the only thing I can taste. It could be 3/4 cup peanut butter, which is THE greatest food item of all time, and 1 tablespoon cream cheese and I'm still going to taste nothing but the cream cheese. I don't know why. I'm sure, as my mom would say, it's just all in my head.
The only good thing about this month being a dessert challenge was that we were having a family dinner and somehow I always end up in charge of desserts for family meals. We were having fajitas so my MIL went looking for a fun Spanish themed dessert for me to make and she found this Sopapilla Cheesecake recipe from Mommy's Kitchen! Excellent, two birds with one stone!!
INGREDIENTS:
2 cans Pillsbury Crescent Seamless Dough Sheets ~ or regular crescent rolls, you'll just need to press the seams together
2 packages (8 ounces) soft cream cheese
1 & 1/2 cups sugar, divided
2 teaspoons vanilla
2 teaspoons cinnamon, divided
1/4 cup butter, melted
honey ~ optional
LETS COOK:
1. Preheat your oven to 350 degrees. Prepare a 9×13 inch baking dish with cooking spray.
2. In a large bowl, beat the cream cheese with 1 cup sugar, vanilla and 1 teaspoon cinnamon until smooth.
3. Unroll 1 can of the dough sheets and press into the bottom of your pan. If you are using crescent rolls, you will want to press the seams of the rolls together.
4. Evenly spread the cream cheese mixture over the top of the dough.
5. Unroll the second can of dough and lay over the cream cheese, tucking the edges down into the pan. Again, press the seams of the rolls together if using ~ probably would be easier to do before laying on top of the cream cheese.
6. In a small bowl, mix together the melted butter, 1/2 cup sugar and remaining teaspoon of cinnamon. Pour evenly over the top of the dough.
7. Bake for 30-35 minutes, until the dough has puffed and turned golden brown. I also used the melted butter as a guide – once all the butter had soaked in except for a few small spots.
Optional ~ Drizzle with honey as soon as you pull it from the oven.
Be sure not to miss KITCHEN WEEK @

Bear Rabbit Bear Crafts
August 12-18, 2012

Print Friendly
LIKE
Mom on Facebook ~
FOLLOW
Mom on Twitter ~
FOLLOW
Mom on Pinterest
THIS RECIPE PROUDLY LINKED TO:
CCC