This is a Sponsored post written by me on behalf of KRAFT Natural Shredded Cheese and Safeway. All opinions are 100% mine.
This Chopped Chicken Salad is packed full of flavor, perfect for a Summer lunch!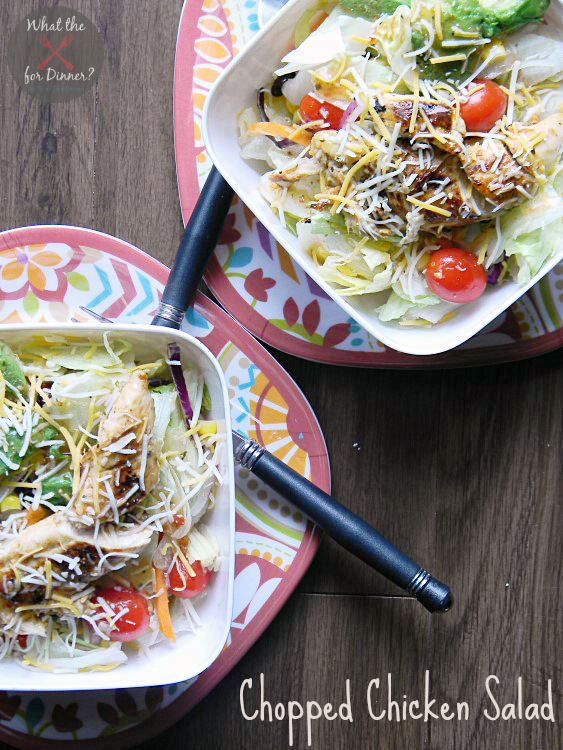 When it comes to Summer time meals, I want light & easy.This Chopped Chicken Salad is so packed with flavor you won't realize you're eating light & won't be left hungry shortly later.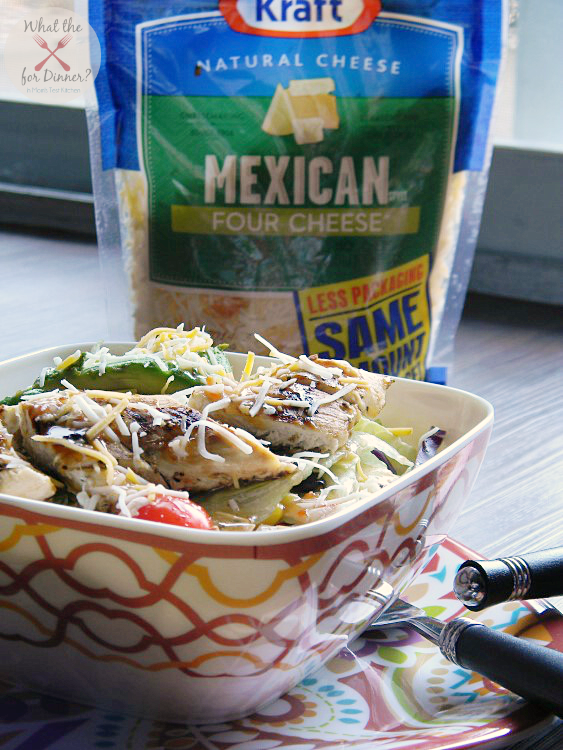 So when I found this recipe over on the KRAFT recipes site, I knew I wanted to give it a try. I knew it would be a recipe that both the Hubs & I would enjoy. So I made my grocery list & headed over to my neighborhood Safeway store & did some shopping. I gathered all of my produce, and then I headed over to get the chicken & the package of KRAFT Cheese.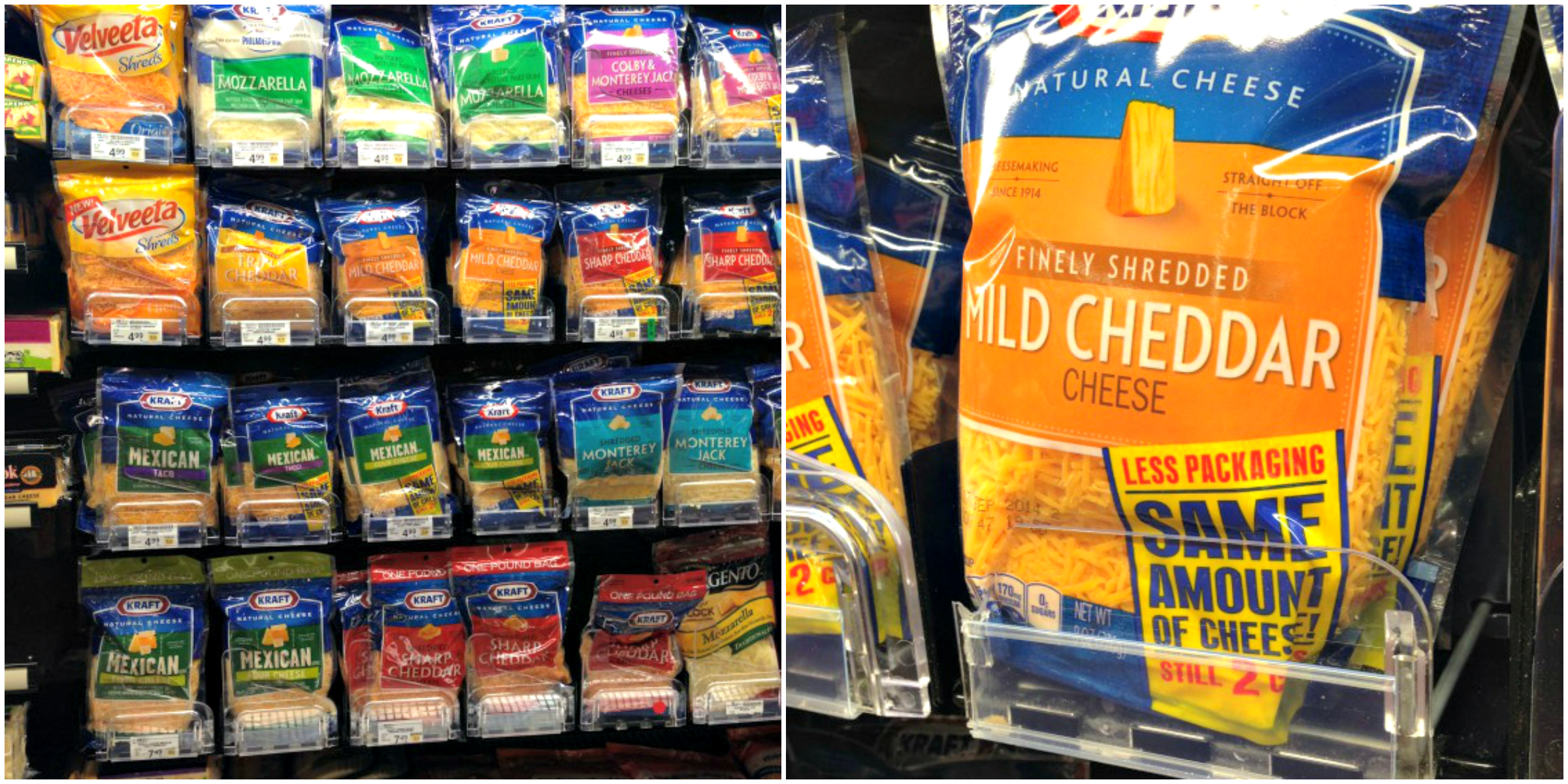 Now we have to take just a minute to talk about the cheese! Have y'all seen the new KRAFT Stand-up Pouches?? I have fallen in love with these! Seriously, when you cook as much as I do, it's the little things that matter!
One of the things I really dislike about normal shredded cheese packets are they are almost impossible to cook with without making some kind of mess. It's so hard to fit a large measuring cup down into the bag, they fall over, they just overall aren't user friendly while cooking. But these new Pouches from KRAFT solve those problems – they stand up! No more falling over, no more spilling cheese everywhere, & we didn't lose any of the cheese for them to make these new pouches! They still have the full 2 cups like the old style! It's a win all the way around!!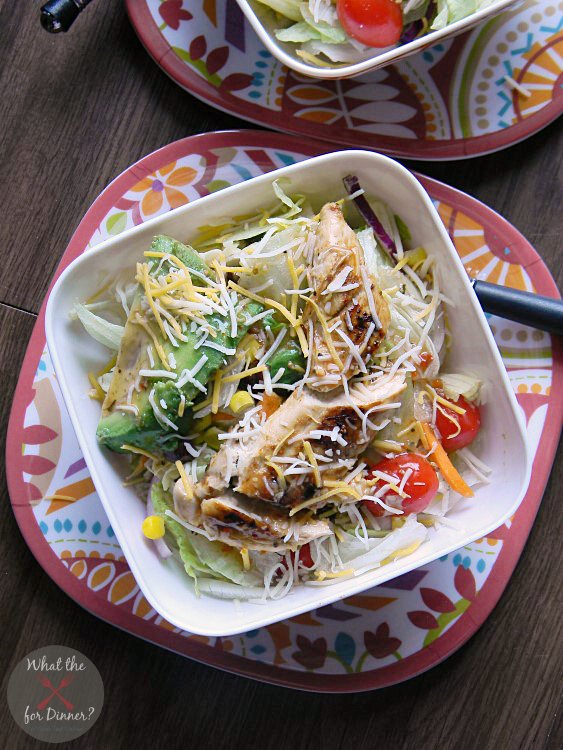 So now let's have some lunch!
Chopped Chicken Salad
Ingredients:
2/3 cup KRAFT Roasted Red Pepper Italian Dressing
1 package (3/4 pound) chicken breast tenders
1 bag (12 ounces) salad mix
1 can (15 ounces) black beans, drained & rinsed
1 can (15.25 ounces) sweet corn, drained
1 container (10 ounces) cherub tomatoes
1/2 cup red onions, thinly sliced
1 large avocado, sliced
1/2 cup KRAFT Mexican Style Finely Shredded Four Cheese
Instructions:
Pour 1/3 cup of the KRAFT dressing over the chicken in a Ziploc bag, gently toss to coat. Refrigerate for a minimum of 30 minutes up to overnight to marinate – I did overnight.
Heat a large skillet over medium heat. Remove the chicken from the marinade, discard marinade. Cook the chicken in the skillet, about 5-8 minutes on each side depending on the size of your chicken, or until done & no longer pink. Alternately you can grill the chicken over medium heat until done.
While the chicken is cooking, combine the remaining dressing with the remaining salad ingredients, not including the cheese, in a large bowl.
Slice the chicken once cooked; lay over the salad. Top with cheese.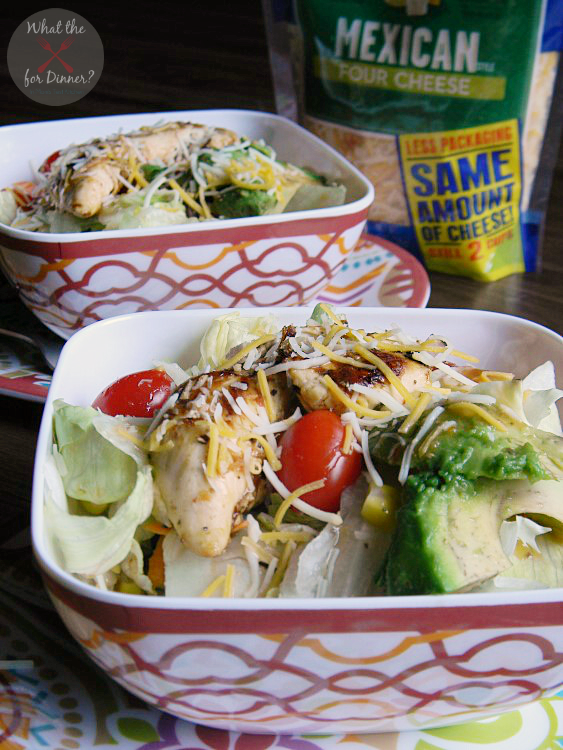 So now, y'all head over to your local Safeway Just For You Stores, grab some of the new KRAFT Stand-Up Pouches & get cooking!