Brussels Sprouts with Bacon & Shallots #SecretRecipeClub
I must confess something to y'all. Prior to this recipe, I had never had a brussels sprout before. I had never bought them, never cooked them, never ever tasted them. I was a little apprehensive when I decided to take on this recipe. I almost chickened out and made the Nutella Bars instead.
But since it is #BaconMonth, I knew going into this month's Secret Recipe Club assignment, I was cooking something with bacon. This month I got to pick a recipe from a blog I have been to before ~ My Judy The Foodie. Though you would probably initially think the blog is written by Judy, it is actually Shari's blog, Judy's daughter. Shari started the blog as a tribute to her mother after her passing; her "artful interpretation of Mom's life through her cooking." Is there a better reason to start a blog than that???
Before I get too sentimental over Shari's story, lets get back to the brussels sprouts. Shari's recipe originally called for maple syrup which is a great and wonderful thing that I had none of. I decided instead of the syrup to cook the sprouts in some extra butter with a little maple extract & I think it turned out great!! For anyone that loves brussels sprouts, I'm pretty sure you'll love these. For anyone that has never tried them or possibly even doesn't like them, I highly recommend you give them a chance with this recipe! You might become a liker of the brussels sprouts after all.
BRUSSELS SPROUTS WITH BACON & SHALLOTS
YIELD:

serves 4
INGREDIENTS:
1 bag (12 ounces)

frozen brussels sprouts

1

shallot, sliced thin

5 slices

thick cut bacon, sliced thin

1 tablespoon

olive oil

4 tablespoons

butter, divided

1 teaspoon

maple extract
COOKING DIRECTIONS:
In a large skillet, head the oil & 1 tablespoon of the butter over medium high heat. Add the bacon & shallot and saute until the bacon is cooked through & crisp & the shallot is tender.
Add the brussels sprouts to the skillet with the remaining 3 tablespoons butter & the teaspoon of maple extract. Cover with a lid and allow to simmer for about 10 minutes or until the desired tenderness is achieved.
Season to taste with salt & pepper. Serve immediately.

RECIPE INSPIRED BY: My Judy The Foodie
THIS POST PROUDLY SHARED AT THESE PARTIES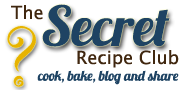 Be sure to stay connected on social media for all the latest recipes & behind the scenes fun!




CHECK OUT THIS MONTH'S SPONSOR