Roasted Green Beans & Potatoes with Bacon Vinaigrette #STAROliveOil

Roasted vegetables tossed with STAR Butter Olive Oil and a warm bacon vinaigrette make a perfect side dish for your Holiday table!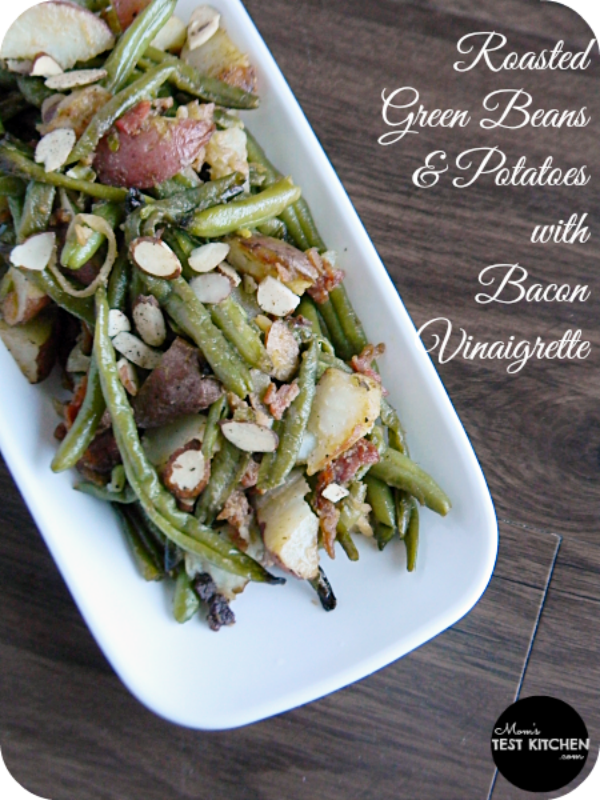 Do any of y'all feel extra fat during the months of November and December? It can't be just me right? I'm not the only one who feels like I've regained the Freshman 15 15 years later than I should have, am I? Lie to me people, lie to me if I'm the only one!
How do you not feel the extra winter weight right now though? You've got two holidays within a month of each other that highlights the fact that you should eat lots of pie & cookies! 😉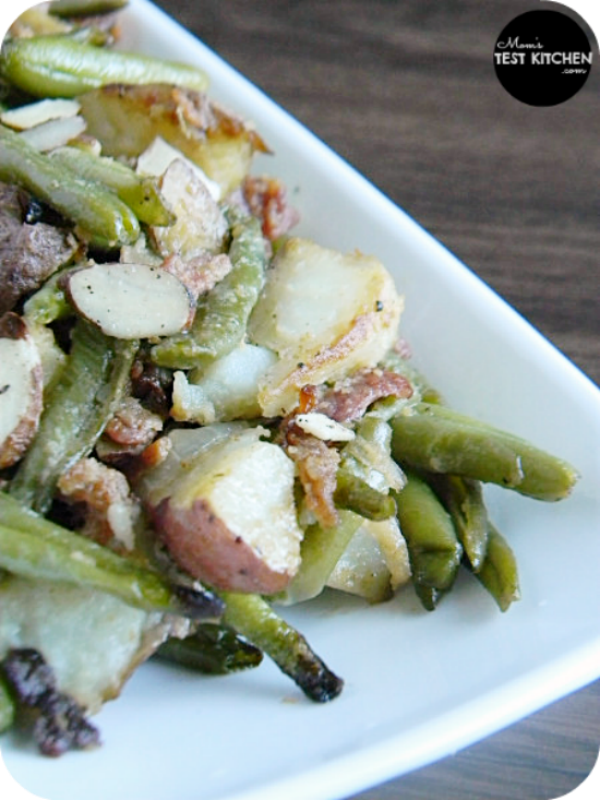 So what if you could take some of your favorite Holiday dishes and make them a tad bit healthier? You'd love it right? Cause I love it!
STAR Butter Flavored Olive Oil lets you do just that! This olive oil is perfect for giving the nice butter flavor to your dishes without actually using the butter! Take these Roasted Green Beans & Potatoes – delicious, buttery roasted vegetables tossed in a dressing made of bacon! Butter & Bacon??! It doesn't get much better than that! And you can feel just a little bit better about serving bacon because you balanced out the dish with a healthy olive oil! 😉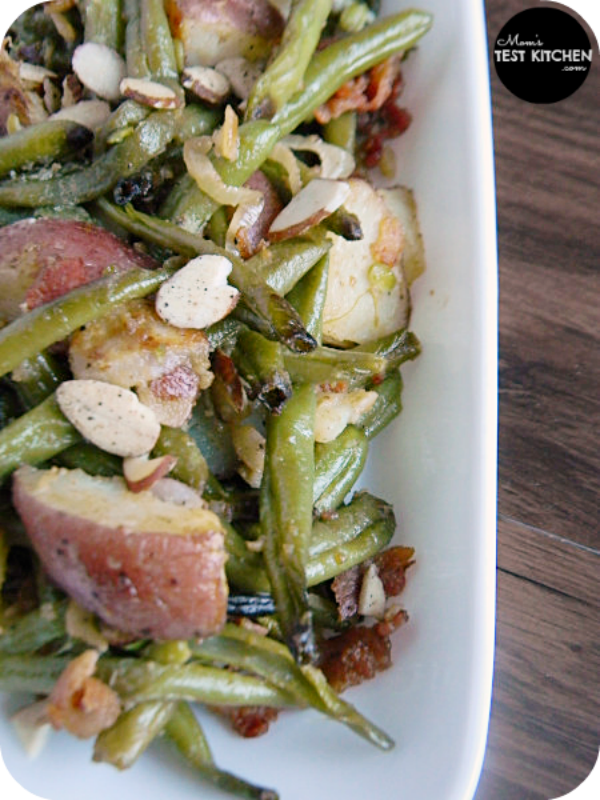 These Roasted Green Beans & Potatoes should definitely make an appearance at your Holiday dinner tables! Its a different twist on serving just the classic green bean casserole or mashed potatoes. And you're family will love it! And you'll love knowing that you made Thanksgiving dinner just a tad bit healthier!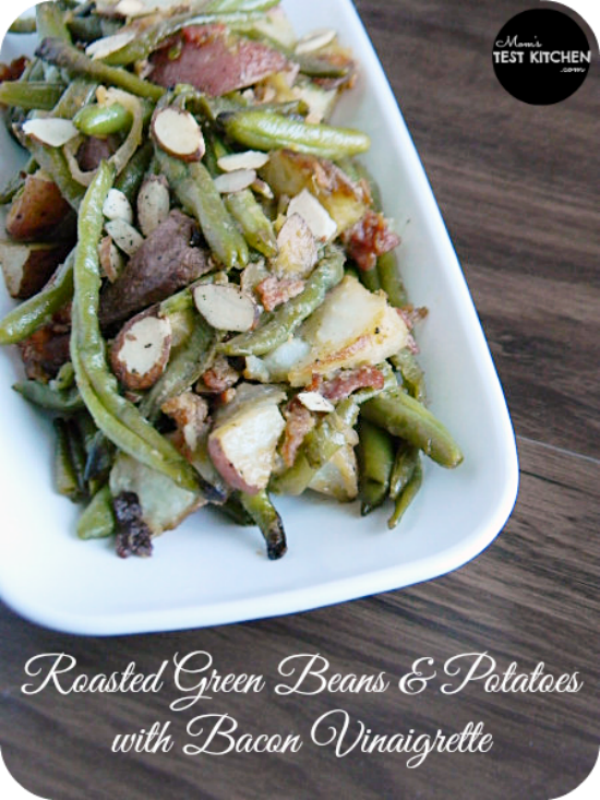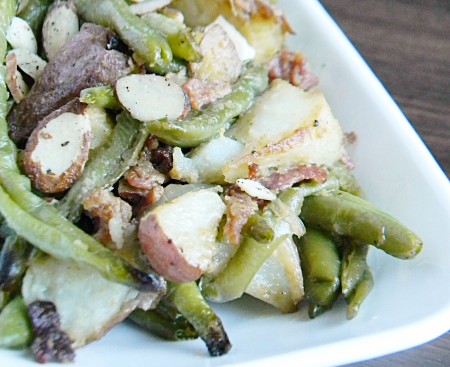 Roasted Green Beans & Potatoes with Bacon Vinaigrette
Ingredients
1

bag

12 ounces frozen whole green beans, thawed

5

small red potatoes

quartered

3

tablespoons

Star Butter Olive Oil

divided

6

slices

bacon

1

small sweet onion

thinly sliced

2

tablespoons

sliced almonds

plus extra for topping

2

tablespoons

cider vinegar

2

tablespoons

dijon mustard

salt & pepper to season
Instructions
Preheat your oven to 425 degrees. Grease a large baking sheet with non-stick cooking spray.

Toss the green beans and the potatoes 2 tablespoons of the olive oil & season them with salt & pepper. Spread the vegetables out in a single layer on the baking sheet. Roast the vegetables for 20-30 minutes, stirring every 10 minutes, until the potatoes are soft & the vegetables are just starting to brown.

While the vegetables are roasting, in a large skillet, fry the bacon over medium heat until crisp. Transfer to a paper-towel lined plate.

Discard all but 2 tablespoons of the bacon grease from the skillet and return to medium heat. Add the onions and cook, stirring, for about 2 minutes. Add the almonds to the skillet with the onions and continue cooking until the onions are soft & translucent. Stir in the vinegar, mustard and remaining tablespoon of oil to the skillet. Stir until just combined and heated through.

Pour the contents of the skillet into a large bowl. Crumble the bacon into the dressing. Add the roasted vegetables to the bowl and toss with the dressing. Transfer to a serving platter and sprinkle additional almond slices on top.
So, are you ready to add this dish to your Holiday menus? Then head on over to Wal-Mart, grab a bottle of STAR Butter Flavored Olive Oil & roast you some veggies!! 🙂
You can also learn more about STAR Olive Oils by following them on Facebook, Twitter or Pinterest!
Be sure to enter their Holiday Giveaway when you like them on FB!

Disclosure: I have been compensated for this conversation. All opinions are my own 🙂