Honey Garlic Fried Chicken : Crazy Cooking Challenge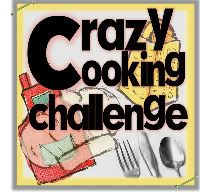 Welcome to Challenge #11 for the Crazy Cooking Challenge but for me Challenge #1!! I have been following Mom's Crazy Cooking for awhile and I always enjoy seeing the challenge posts. I'm so excited to now be apart of those challenges! And I was so excited when I saw July's challenge was Fried Chicken because I knew exactly what recipe I was going to try!
When I first saw this chicken recipe from Rock Recipes, I knew it would be one the Hubs and I would love! And to say we loved it would probably be an understatement! Let me put it to you this way – the next day after I made this chicken, the Hubs asked me what we were having for dinner and before I could even answer he says "that chicken last night was so good". I think maybe he was trying to hint at what he wanted for dinner…
INGREDIENTS FOR FRIED CHICKEN:
1 pound chicken breast cutlets, thinly sliced
1 cup flour
1 teaspoon seasoned salt
1 teaspoon fresh ground pepper
1 tablespoon ground ginger
1 tablespoon ground nutmeg
1 teaspoon thyme
1 teaspoon ground sage
1 tablespoon ground paprika
1/2 teaspoon crushed red pepper
3 eggs
6 tablespoons water
oil for frying – I used Vegetable
INGREDIENTS FOR HONEY GARLIC SAUCE:
1 tablespoon olive oil
6 cloves garlic, minced
1 & 1/2 cups honey
1/2 cup soy sauce
2 teaspoons fresh ground pepper
LETS COOK THE CHICKEN:
1. Start by combining the flour, salt, pepper, ginger, nutmeg, thyme, sage, paprika and crushed red pepper in a shallow bowl.
2. Make an egg wash by lightly beating the three eggs and water in a second shallow bowl.
3. Pour your oil into a large skillet and heat over medium to medium-high heat. I kept my stove on a 6 out of 10 setting.
4. While the oil is heating, dip the chicken into the flour and seasoning mixture. Dip the chicken into the eggwash and then dip the chicken back into the flour mixture. Be sure to press the chicken into the flour mixture the second time to make sure you get a good coating. Lightly shake off any excess flour.
5. Add the chicken to the hot oil and gently fry until golden brown and crispy on both sides, about 5 minutes per side. If you are using the thin sliced chicken breasts, this should be more than enough time to make sure that the chicken is cooked through.
6. Once the chicken is golden brown, remove from the oil and allow to drain on a wire rack before dipping in the Honey Garlic Sauce.
LETS COOK THE HONEY GARLIC SAUCE:
1. In a small saucepan, heat the olive oil and garlic over medium heat until the garlic is soft but not brown.
2. Add the honey, soy sauce and pepper.
3. Simmer for 10 minutes, remove from heat and allow to cool for a couple of minutes.
4. Dip the Fried Chicken breasts into the sauce.
NOTES:
*I served the chicken over steamed white rice, which honestly I'm not a huge fan of, but I kid you not when I say I cleaned my plate of that rice soaked in the Honey Garlic Sauce. I think I could drink that sauce by the cupful!
RECIPE INSPIRED BY: Rock Recipes

Print Friendly
THIS RECIPE PROUDLY LINKED TO: Crazy Cooking Challenge, White Lights On Wednesdays, Lady Behind The Curtain, DJ's Sugar Shack, Southern Lovely, The NY Melrose Family