HaHa's Chicken #SecretRecipeClub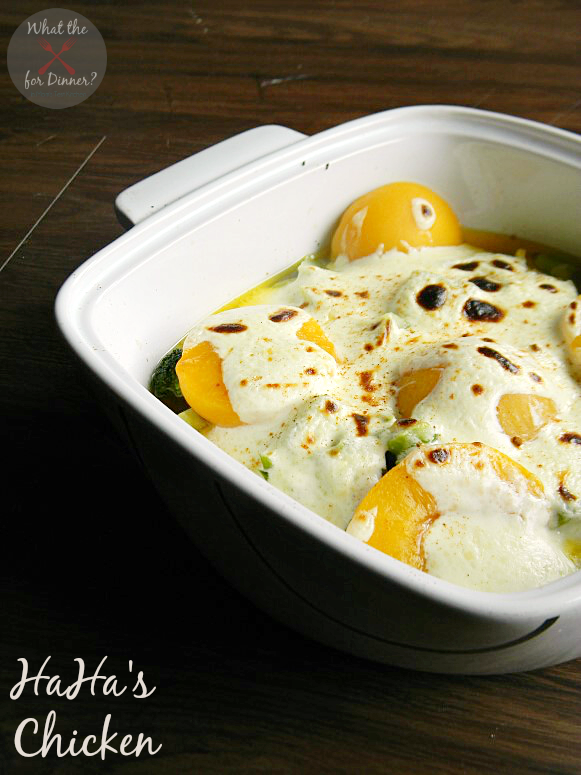 Welcome to this month's Secret Recipe Club reveal! This month I had the privilege of getting to pick a recipe from Nicole's blog – I am a Honey Bee! Getting to spend this past month checking out Nicole's blog is exactly why I love being a part of the Secret Recipe Club. It introduces me to new blogs & bloggers that otherwise I might not have gotten to know. And I really enjoy Nicole's blog! She not only share's recipes, but also shares her love of scrapbooking & travel. Plus she's a new mom so there are sweet little baby pictures mixed in there too!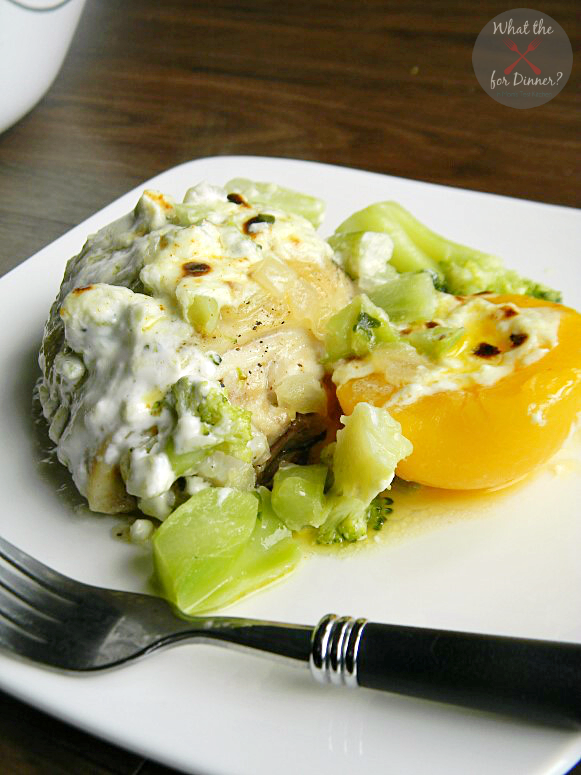 As I was looking through Nicole's recipes trying to decide which one I was going to pick, I will admit it was a tough choice. She had quite a few recipes that I wanted to make. I'm a sucker for Fried Pickles so those were right at the top of the list. Then there were the Tropical Pork Pineapple Kabobs that sound amazing. And then, since I was obviously making a three course meal, her Honeydew Melon Sorbet would definitely be the dessert pick! 😉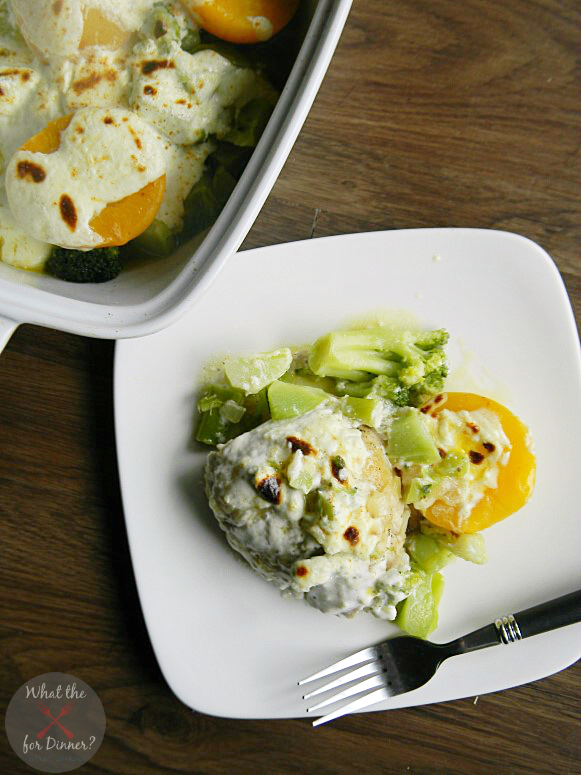 Then I saw her HaHa's Chicken recipe & the name alone won me over! And then the flavors in the dish sealed the deal! This was absolutely a delicious dinner! It's a simple chicken bake recipe that also serves up the veggies & fruit all in one dish! I was a little worried about the broccoli & peaches working together with the cream sauce but it works great! Nicole recommends serving it over rice, which we are trying to cut back on so I served it with a simple side of roasted potatoes & those were also delicious dipped in the cream sauce!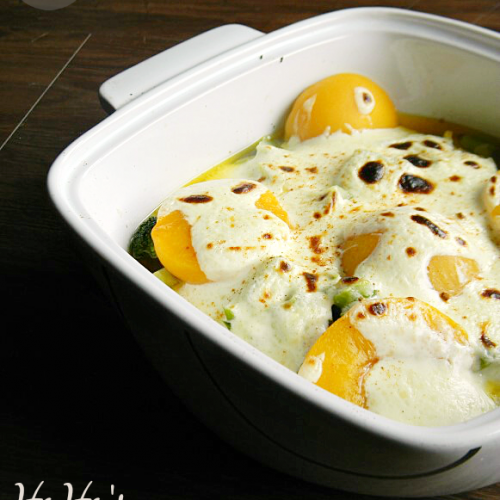 HaHa's Chicken
Ingredients
3

large bone in

skin on chicken thighs

1/2

cup

butter

1/2

cup

chopped onion

I used frozen

3

cloves

minced garlic

1

teaspoon

paprika

1

bag

12 ounces frozen chopped broccoli

1/2

cup

sour cream

1/4

cup

mayonnaise

1/4

cup

grated Parmesan cheese

1

can

15 ounces peach halves, drained
Instructions
Preheat your oven to 350 degrees. Lightly grease a small casserole dish - I used a 2 quart dish. Place the chicken in a single layer in the dish.

In a small saucepan, melt the butter over medium heat. Add the onions & saute until soft and translucent. Add the garlic & saute just until fragrant. Remove from heat & add in the paprika. Pour the onion mixture over the chicken in the dish. Cover with foil & bake until the chicken is cooked through & no longer pink, about 45 minutes to an hour depending on the size of your thighs.

While the chicken is cooking, steam the broccoli until tender-crisp.

In a small bowl, mix together the sour cream, mayo & Parmesan cheese. Set aside until the chicken is done cooking (I put mine back in the fridge because I'm weird about mayo sitting out for more than like two minutes).

Once the chicken is cooked through, remove the dish from the oven & turn the broiler on on your oven. Arrange the broccoli and the peach halves around the chicken thighs. Dollop the sour cream sauce on top of the chicken, broccoli & peaches.

Return to the oven & broil until just brown.