French Onion Grilled Cheese Stackers #Anolon #AppetizerWeek
Welcome to Day #2 of Appetizer Week, a multi-blogger event co-hosted by Kim of Cravings of a Lunatic and Kristen from Frugal Antics of a Harried Homemaker. With the big football game coming up, we wanted to make sure you had plenty of ideas for your game day spread. Each day we will be dishing up a different set of appetizers. We hope you enjoy this fabulous group of recipes. Tune in each day starting with Monday, January 20 and ending on Saturday, January 25.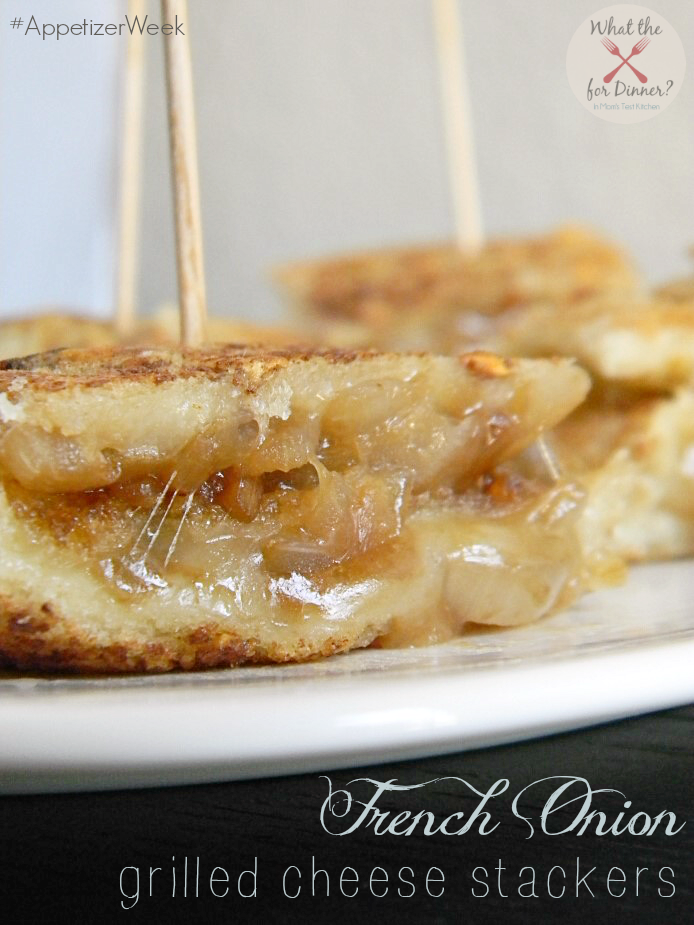 Who doesn't love a bowl of hot, cheesy French Onion Soup? Well in today's appetizer recipe, I've taken those flavors you love & put them in a buttery, hot, cheesy sandwich! Triple stacked high with melting cheese & caramelized onions, these grilled cheese stackers will fly off your serving plate!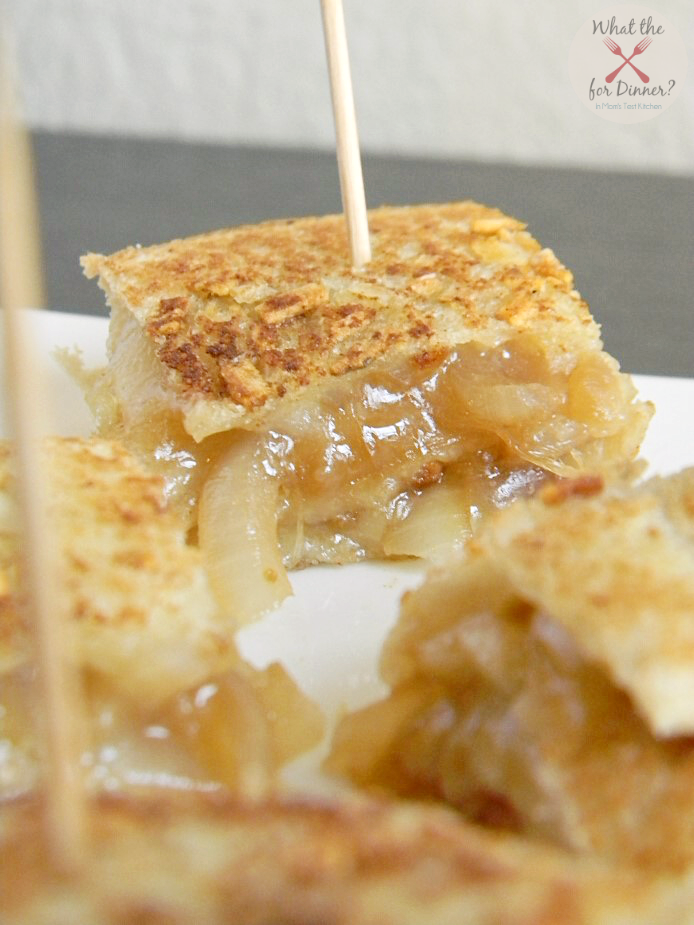 Now let's see what all the other Appetizer Week Peeps have given us for more Munchie Causing Goodness: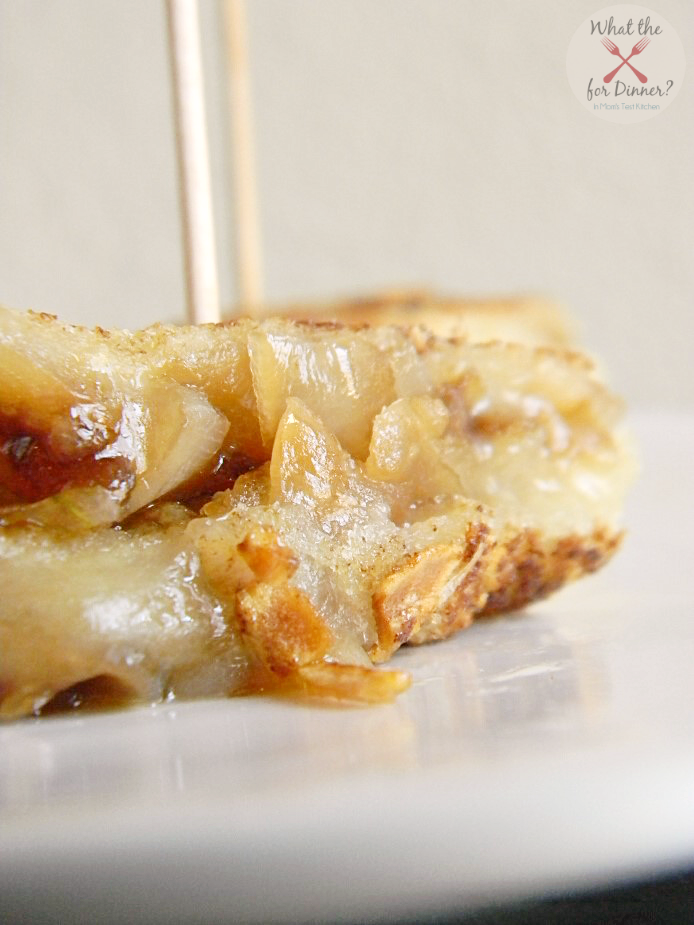 Be sure to keep reading past the French Onion Grilled Cheese Stackers recipe to enter the #Anolon Giveaway!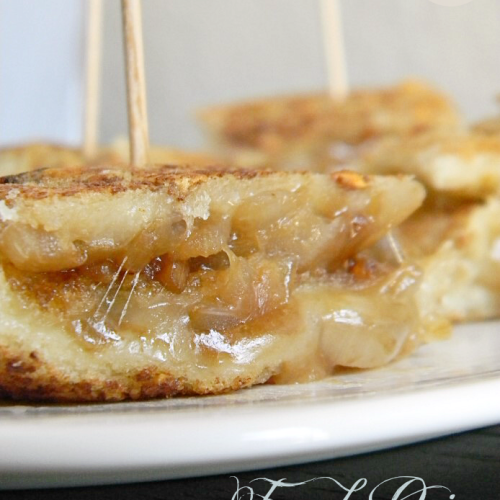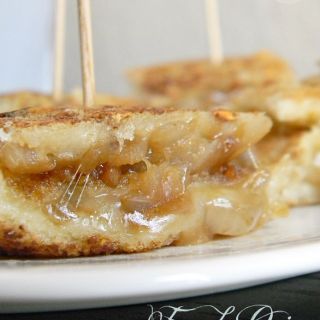 French Onion Grilled Cheese Stackers
Ingredients
1

large yellow onion

thinly sliced

1

tablespoon

butter + more for buttering the bread

1

envelope

1 ounce onion soup & dip mix, divided

loaf bread - 3 slices per sandwich

sliced provolone cheese - 3 slices per sandwich
Instructions
Melt the tablespoon butter in a skillet over medium heat. Sprinkle half of the packet of dry onion soup mix on the onions. Saute the onions on until they are soft and translucent, stirring frequently. Reduce heat to medium low and allow the onions to caramelize until they are deep brown in color.

To assemble, spread one side of each piece of loaf bread with butter. Sprinkle a small amount of the remaining onion soup mix on the buttered side of the bread slices. Build the sandwich by layering the bread on bottom, a slice of cheese, then the caramelized onions, another slice of cheese & finally a second slice of bread, butter side facing out. Put the sandwich butter-side down on a griddle or skillet over medium-low heat. Grill the sandwich until one side of the bread is golden and slightly crisp. Flip the sandwich over to grill the other side. While the sandwich is grilling, add another layer of onions & another slice of cheese, then top with the third slice of bread. Flip the sandwich one last time to grill the final slice of bread and continue cooking until the bread is golden & the filling is warm/cheese is melted.

Once the sandwich is cooked, cut off all 4 edges of the bread. Cut the sandwich into quarters & secure with toothpicks if desired.
Now for the giveaway: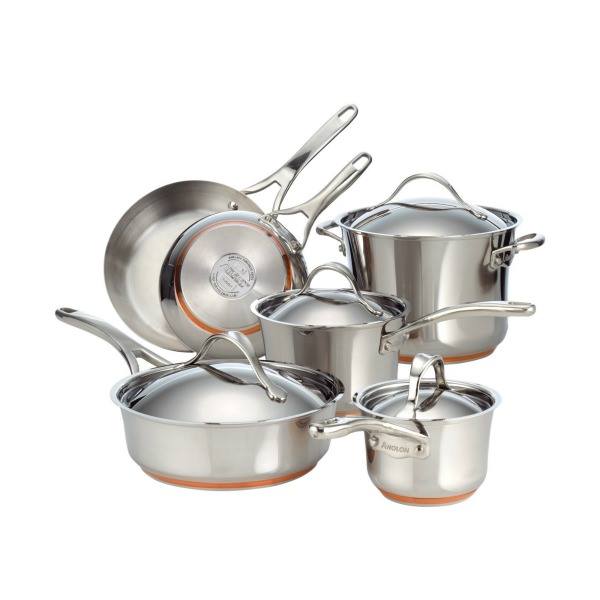 Today's sponsor is Anolon. They are providing an Anolon Nouvelle Copper Stainless Steel Collection 10-piece set, which includes 1.25 Qt. & 2.5 Qt. covered saucepans, 3 Qt. covered saute, 6.5 Qt. covered stockpot, 8″ & 10″ French skillets. This Anolon Set has a stunning, high polish finish that would class up any kitchen. The set is crafted with a layer of copper on the bottom which provides optimum heat conduction. This Anolon collection is also dishwasher safe. Anolon Nouvelle Copper Stainless Steel cookware is gorgeous and will withstand the test of time.
Giveaway is open to U.S. residents only. Winner must be 18 years of age, or older. Winner will be selected randomly. Winner will be contacted via email and has 72 hours to respond before a new winner is drawn. Good luck!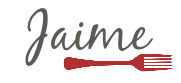 SUBSCRIBE VIA EMAIL & HAVE DINNER DELIVERED STRAIGHT TO YOUR INBOX
***Disclaimer: This giveaway is being provided by Anolon. #AppetizerWeek bloggers have not received product or been compensated as a part of this giveaway.***