Chocolate Pretzel Granola Bars – Peanut Free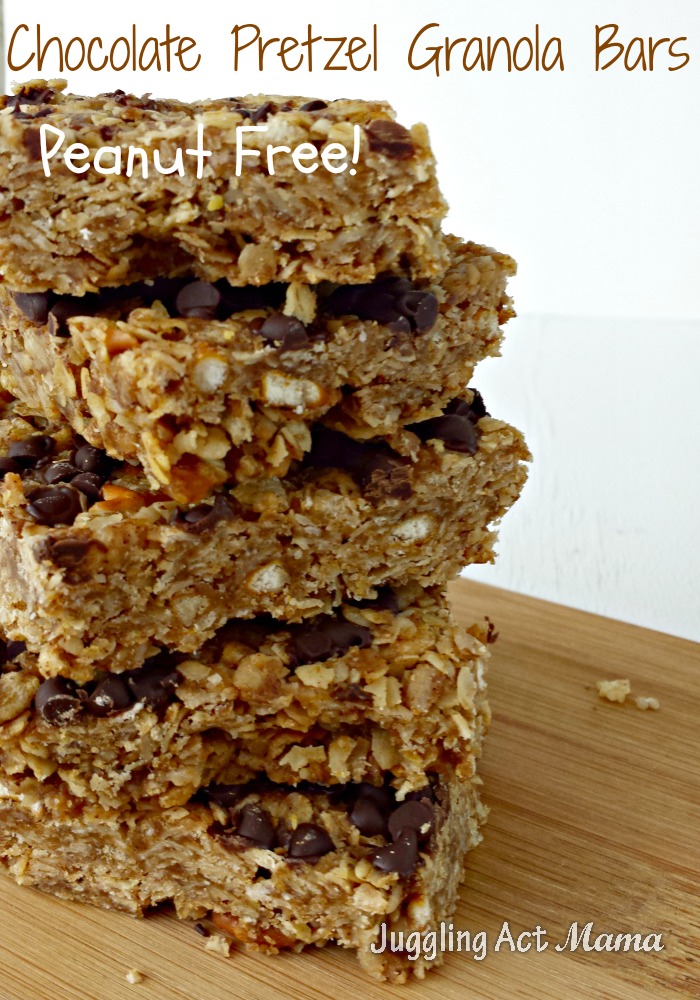 Hello again! It's Ang from Juggling Act Mama and I'm here today to share my recipe for peanut-free Chocolate Pretzel Granola Bars. I love making granola bars at home and peanut butter is a great binder.
The only problem is that my kids go to a peanut-free school so the can't take the bars to school. I tweaked my recipe to come up with a peanut free version that's just as tasty. You (and your kids!) are going to love this wholesome yummy snack!
These granola bars are so full of flavor. They are a little sweet and a little salty, which is my favorite combination.
This recipe is not only kid-friendly to eat, but also to make. Have the kids help measure the dry ingredients and sprinkle on the chocolate chips (leave the stovetop steps and handling the hot mixture to a grown up though!) For small kids, you can talk about textures and counting. With the older kids, cooking gives you a great excuse to talk about fractions.
For kids that are not allergic to anything, this is also a great way to start a discussion about what it means to be allergic to something. It's an opportunity to teach compassion and empathy as well.
I hope you and your family enjoy these granola bars, and the family time together making them!
Chocolate Pretzel Granola Bars
Makes about 12 bars
Ingredients: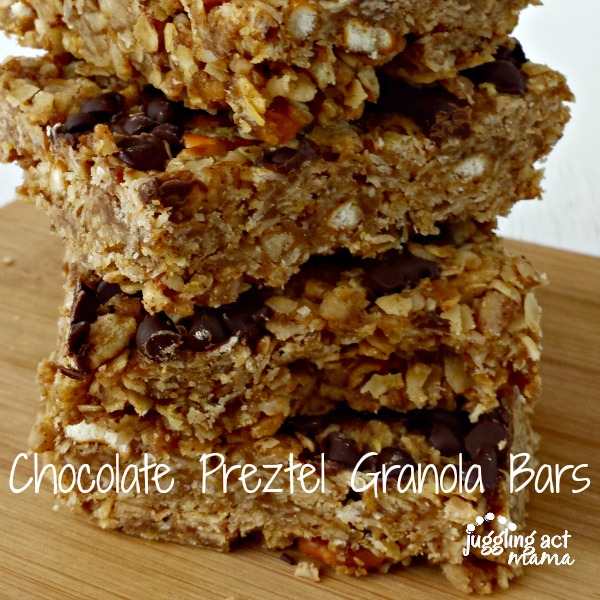 1/4 cup unsalted butter
1/4 cup brown sugar
1/4 cup honey
1/4 cup soy nut butter
1 teaspoon vanilla extract
2 cups quick oats
1/2 cup crispy rice cereal
3/4 cup chopped pretzels
2 tablespoons wheat germ
1 tablespoon milled flax seed
1/4 cup mini chocolate chips
Directions:
Line an 8×8 baking pan with parchment paper so that it overhands on two sides.
Combine the butter, brown sugar, honey and soy nut butter in a large sauce pan over medium-low heat. Bring the mixture to a rolling boil then cook for 2 minutes stirring constantly. Remove from the heat. Stir in the vanilla extract until combined.
Mix in the oats, crispy cereal, milled flax seed, wheat germ, and chopped pretzels until the dry ingredients are fully incorporated into the wet. Use a piece of parchment paper to help you press the mixture evenly into the prepared pan. Sprinkle the top with the mini chocolate chips and press down again gently with the parchment paper.
Refrigerate the bars for 30 minutes until cool and hard before cutting. These hold together best when served cold. Store left overs in an airtight container or resealable bags in the refrigerator.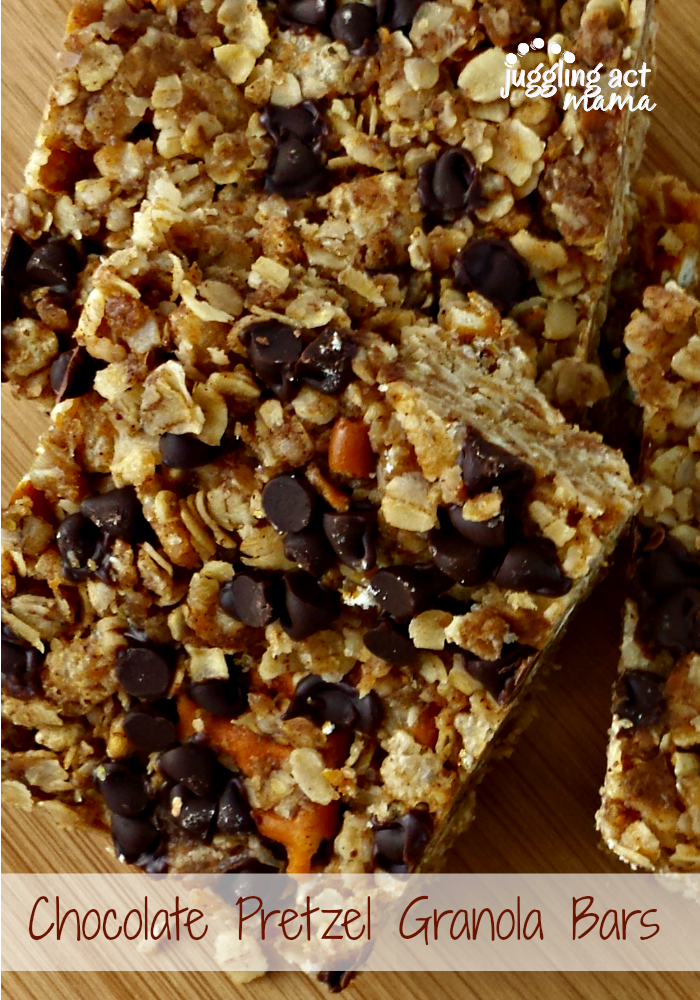 Want more delicious snack recipes?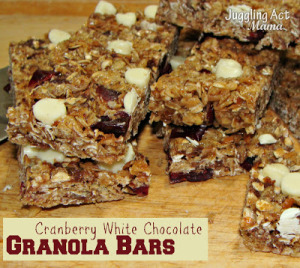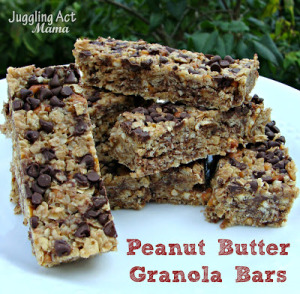 What's your favorite kind of granola bar?