Tri-Pepper Quesadillas with Creamy Chipotle Sauce #PepperParty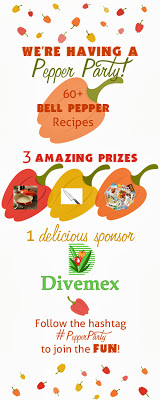 I'm so excited to be joining a group of bloggers for the next week for a #PepperParty! We've teamed up with Divemex to bring you recipes featuring fresh bell peppers! Plus we've got giveaways, parties and a whole slew of other fun events going on!!
The growers of Divemex specialize in greenhouse grown peppers in state of the art facilities that facilitate the production of the highest quality peppers in some of the safest facilities anywhere. But most importantly, as a Fair Trade Certified company, they have an unwavering commitment to social responsibility that puts workers first.
Learn more about Divemex by checking out their website! Be sure to give them a like on Facebook or a follow on Twitter!!
So let's get this #PepperParty started!! First up, we've got a Twitter Party & Chat happening tonight from 8-9 PM EST. And we've got prizes!! Up for grabs tonight are 10 Divemex Pepper Corers and 2 Veggie Grill Racks! Just be sure to use the hashtag #PepperParty to enter to win!!
But that's not all!! We've also got a giveaway right here, right now!! We're giving away a Le Creuset 3 ½ quart Signature Braise!! Just scroll down to the bottom of the post to enter the rafflecopter!!
So now let's talk food!! We love to use fresh peppers to make meatless quesadillas! It's one of our favorite easy weeknight dinners!! Serving it with the Creamy Chipotle Sauce to dip the quesadillas in just puts it over the top!!
Pepper Rings with Chipotle Maple Ketchup by Jane's Adventures in Dinner
Bell Pepper Beef Stew by Frugal Antics of a Harried Homemaker
Italian Stuffed Peppers by poet in the pantry
Slow Cooker Chicken Fajitas by Mother Thyme
Roasted Red Pepper and Italian Sausage Pasta by Cravings of a Lunatic
Quiona Taco Stuffed Peppers by Quarter Life (Crisis) Cuisine
Pan Fried Meatloaf In Tri Color Peppers by Cooking In Stilettos
CREAMY CHIPOTLE SAUCE INSPIRED BY: Jo Cooks
And remember to join us on Twitter tonight at 8 PM EST for some more great prizes!!