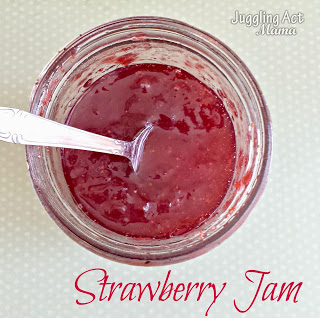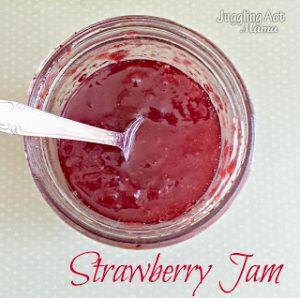 I always remember homemade strawberry jam as a household staple. My mom was the stellar cook in our house, but this is one thing I remember my Dad doing in the kitchen year after year. Of course, my three sisters and I all had a hand in picking the berries, too. Last year, we made a fabulous batch of blueberry jam, but our Strawberry jam never set up and it was labeled as "dessert topping" instead.
There are two keys to good strawberry jam –
1. fantastic fresh strawberries
2. follow the directions
Number two is crucial. My failure last year was that I tried to double the batch (I like to multi-task) and it backfired on me in a big way. This is not a unique recipe in that I'm advising you to follow the Sure-Jell instructions. If you want to make it your own, personalize the lid with a custom label, or add a beautiful ribbon and a bit of fabric. Trust me on this, you just don't want to mess around with the ingredients or procedure on this one!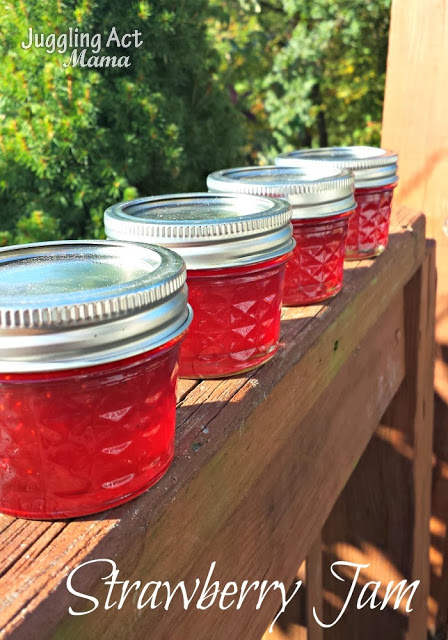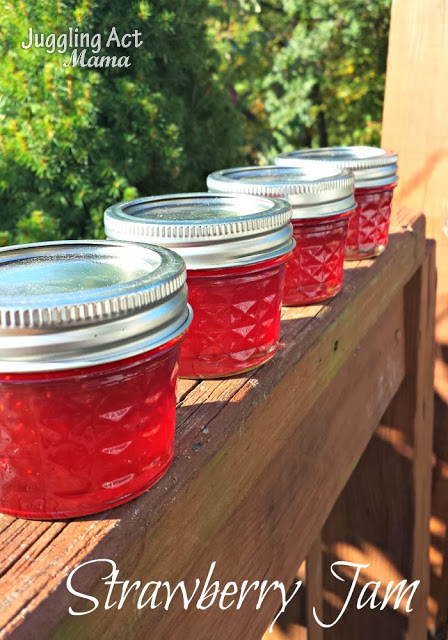 Strawberry Lime Jam
Ingredients
5

cups

prepared strawberries

2

teaspoons

lime zest

1/4

cup

lime juice

1

box Sure-Jell fruit pectin

1/2

teaspoon

butter

7

cups

sugar

measured into another bowl
Instructions
Prepare your canning jars first. I learned a trick from my Dad that works wonders and saves time. Load up your jars, lids, bands and utensils into the dishwasher and run it on the sanitize cycle. Dry everything thoroughly.

While that runs, fill a water canner half full and bring to a boil.

Place a kitchen towel on the counter next to the stove and place the sanitized jars on the cloth with the lids and bands near by. (I love using small jars like this, as they make fabulous gifts for the holidays!)

Prepare the strawberries by removing the hull and crushing them with a potato masher. Add to a large stock pot and mix in the lime zest and juice. Stir in the pectin and bring the mixture to a rolling boil. Add the butter and stir in the sugar. Stir, stir, stir! Return to a rolling boil and cook exactly 1 minute.

Remove from the heat, skim off any foam with a metal spoon. Ladle the mixture into the prepared jars, leaving 1/8-inch headspace. Carefully add the lids and screw the bands on tightly. Place the jars onto an elevated rack in the canner. The water must completely cover the jars.

Bring to a boil and process for ten minutes. Remove and place on the towel to cool - then wait for all the little PING noises from the jars. Once the jars are fully cooled, check the seals and refrigerate any jars that pop back when you press on the lid.