Candied Garlic Chicken #SRC
Candied Garlic Chicken is an easy to make chicken dinner with an Asian flair that only requires four ingredients to make! Serve it with rice & veggies for the perfect weeknight supper!
Welcome to May's Secret Recipe Club reveal! This month I had the fun of getting to pick a recipe from the wonderful blog written by Rebekah – Making Miracles. I had never been introduced to Rebekah's blog before but in reading about her, I am humbled and amazed by this woman! I won't tell her story, but if you've got some time, you should definitely go over & meet Rebekah!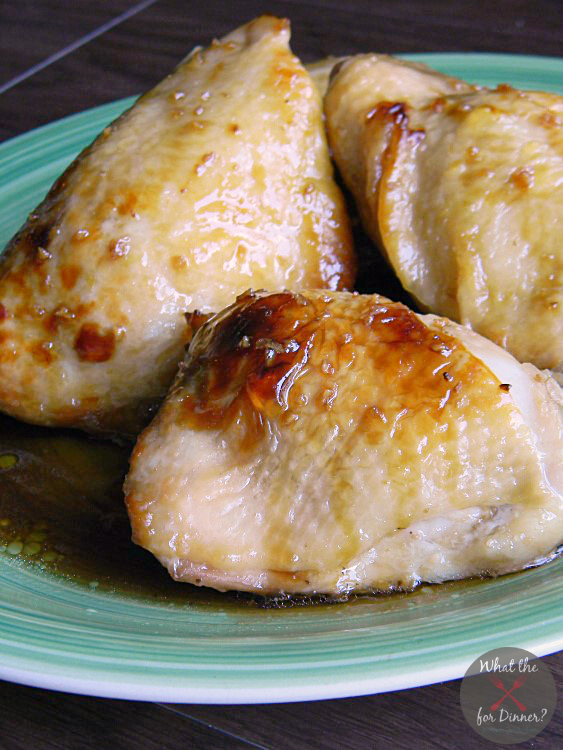 As I was looking through Rebekah's recipes, there were quite a few that caught my eye to try out. She has an amazing list of recipes to pick from! She has been blogging since 2006 so this shouldn't have surprised me! 😉 I finally decided on her Candied Garlic Chicken, partly because the simple flavors of the dish sounded like they would be delicious but also because the simple list of ingredients meant I didn't have to go shopping to make this dinner! SCORE! 🙂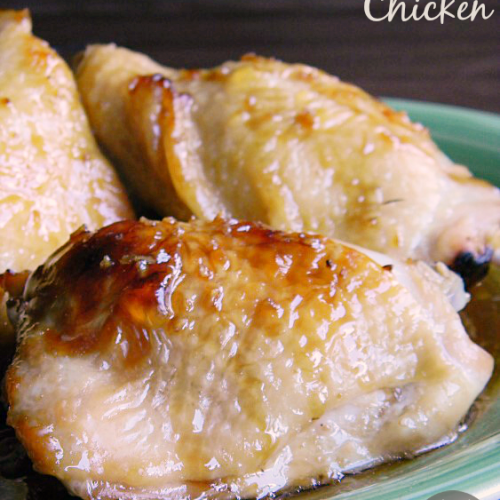 Candied Garlic Chicken
Ingredients
1

& 1/2 pounds chicken thighs - I used skin on

bone in

1

cup

honey

divided

4

tablespoons

soy sauce

divided

4

cloves

minced garlic

divided
Instructions
Place the chicken in a large Ziploc bag. In a small bowl, combine 1/4 cup honey, 1 tablespoon soy sauce & 2 cloves minced garlic. Add the honey mixture to the Ziploc bag with the chicken & gently toss to coat. Let the chicken marinate in the fridge for at least an hour - I let mine sit overnight.

Preheat the oven to 375 degrees. Place the chicken & marinade in a large baking dish (I used a foil throw away one from the Dollar Tree for easy clean up). Cover the dish with foil and bake the chicken for 40-45 minutes, or until cooked through. Turn the heat up to 425 degrees, remove the foil from the pan and cook the chicken for an additional 10-15 minutes or until the chicken has browned.

While the chicken is cooking, simmer the remaining 3/4 cup honey, 3 tablespoons soy sauce & 2 cloves minced garlic in a small saucepan until the sauce has slightly thickened.

Serve the chicken hot with additional sauce spooned on top. I served mine with rice & carrots - both delicious with the extra sauce!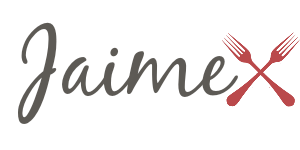 this recipe may be showing off at any of these fabulous parties