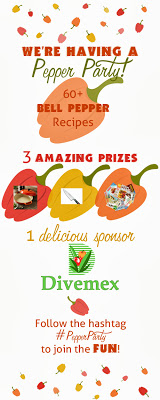 Welcome back to the #PepperParty!! I've had so much fun joining this great group of bloggers & Divemex to bring you recipes featuring fresh bell peppers this past week!
The growers of Divemex specialize in greenhouse grown peppers in state of the art facilities that facilitate the production of the highest quality peppers in some of the safest facilities anywhere. But most importantly, as a Fair Trade Certified company, they have an unwavering commitment to social responsibility that puts workers first.
Learn more about Divemex by checking out their website! Be sure to give them a like on Facebook or a follow on Twitter!!
Don't forget all of the great giveaways going on too! You've still got just a little time left to enter to win the Le Creuset 3 ½ quart Signature Braise and the Wusthof Classic 8" Chef's Knife!! And we wouldn't end the #PepperParty without one last prize ~ up for grabs today is $200 in Food Magazine Subscriptions, winner's choice!!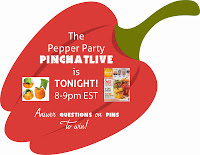 Also be sure to join us tonight for the PinChatLive Party!! Come to the #PepperParty Pinterest Board & answer questions in the comments section for a chance to win 10 Divemex Pepper Corers and a subscription to Food Network Magazine.
So for my last #PepperParty recipe, I made a super simple sandwich. These sandwiches can even be made with leftover chicken if you want to make it that much simpler! All you need is your chicken, some chopped up peppers and onion and a bottle of balsamic vinaigrette dressing and you're set to go for these Balsamic Chicken & Pepper Sandwiches.
Before you check out my recipe, take a look at all of this other deliciousness from the #PepperParty Bloggers!
Roasted Bell Pepper Slow Cooker Soup by Cook the Story
Roasted Red Pepper Hummus by Frugal Antics of a Harried Homemaker
Baked Rigatoni with Italian Sausage and Peppers by Mother Thyme
Sauteed Bell Pepper Coconut Curry Soup with Coconut Crusted Tilapia by Food Snob 2.0
Peppers Stuffed with Everything Good by Healthy. Delicious.
Bell Pepper Slaw by The Redhead Baker
BALSAMIC CHICKEN & PEPPER SANDWICH
We hope you have enjoyed all of the wonderful recipes shared for the #PepperParty!! Be sure to join us tonight for the PinChatLive!!