As the cool weather sets in, nothing beats a warm, hearty bowl of semi-homemade chowder!

So it's finally starting to get cooler here in Texas.  Today we actually are staying in the 50s!  To me, nothing beats curling up under a blanket wearing flannel pj pants and fuzzy socks.  I love the cold!  So much more than the stinking hot Texas summers!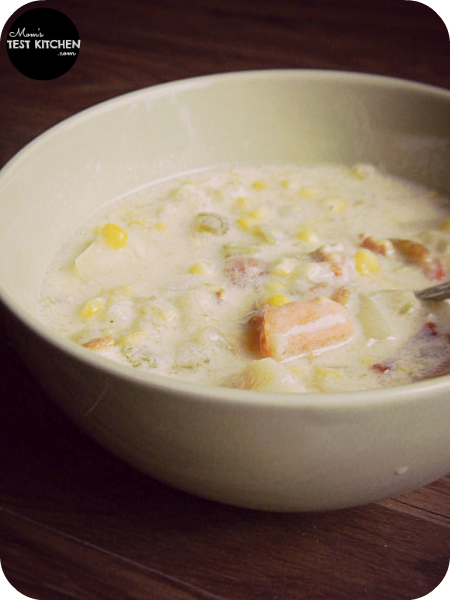 The cooler weather also makes me want to eat more casseroles and soups!  I want hearty food in the cooler months.  I want to put on the extra pounds because I'm eating such yummy comfort foods!  And lets be honest here, what's more comforting than bacon??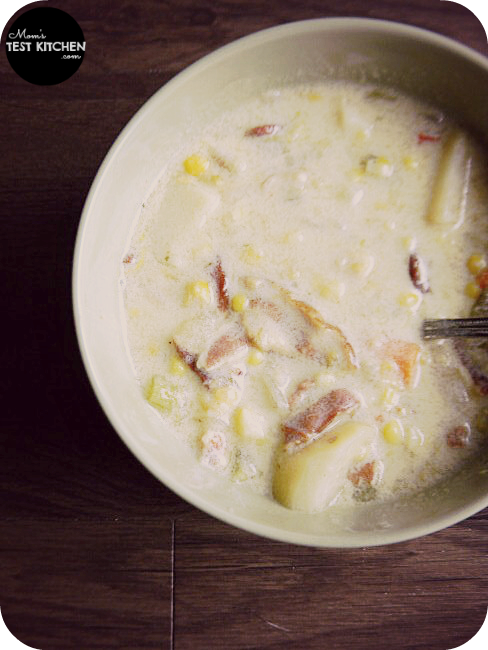 This chowder was super easy to make & absolutely delicious, plus it makes enough to feed us at least two dinners!  I've actually made it twice now & we probably will have it quite a few more times this winter!  It's packed full of veggies & the broth is made with a canned soup so it's really quick to get together!  Throw everything into the pot about mid-morning, let it simmer all day & by dinner time you've got a hearty bowl of comfort just waiting for you!  Serve it with a side of your favorite bread and you won't be disappointed!  Just full 🙂
Potato, Corn & Bacon Chowder
Ingredients
4 white potatoes, peeled & cubed
1 cup baby carrots, cut in half
1 bag (12 ounces) frozen corn
1 bag (12 ounces) Pictsweet Seasoning Blend
1 can ( 14.75 ounces) cream style corn
1 can (18 ounces) Progresso Recipe Starters Creamy Roasted Garlic cooking sauce
1 tablespoon sugar
1/2 pound bacon, cooked crisp
1 cup milk
Instructions
In a large pot (I used a 6 quart), combine the first 7 ingredients (potatoes thru sugar). Crumble the bacon on top of the mixture & stir to combine.
Cover and cook on low for about 6 hours or until the potatoes are tender. Add the milk to the pot and cook for an additional 30 minutes to an hour, until heated through. Season with salt & pepper before serving.
Notes
Alternately, this chowder can also be made in a slow cooker: spray a 6 quart crock pot with cooking spray. Follow same instructions for cooking the chowder as you would on the stove, shortening cooking time to about 4 hours.
RECIPE INSPIRED BY: Progresso
http://momstestkitchen.com/2013/11/potato-corn-bacon-chowder.html