Veggie Pizza #SecretRecipeClub
Veggie Pizza makes a perfect easy appetizer or a simple make-ahead meatless meal!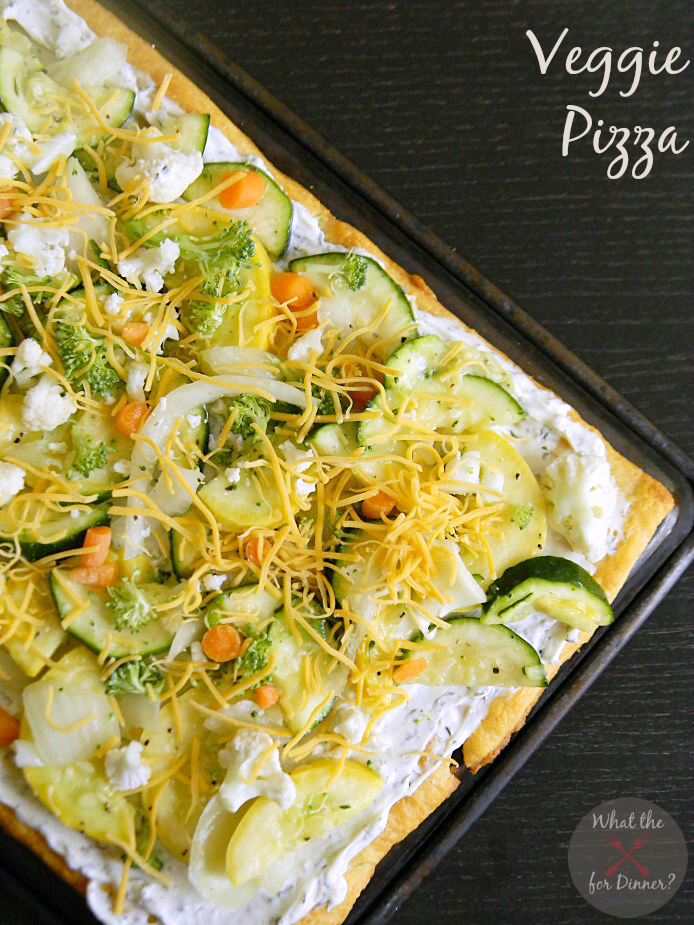 Welcome to February's Secret Recipe Club reveal! This month I had the honor of getting to pick a recipe from Lynn over at Turnips 2 Tangerines. I have actually known Lynn for a little while, not just through the SRC, but through link parties & just the fun world of blogging. 🙂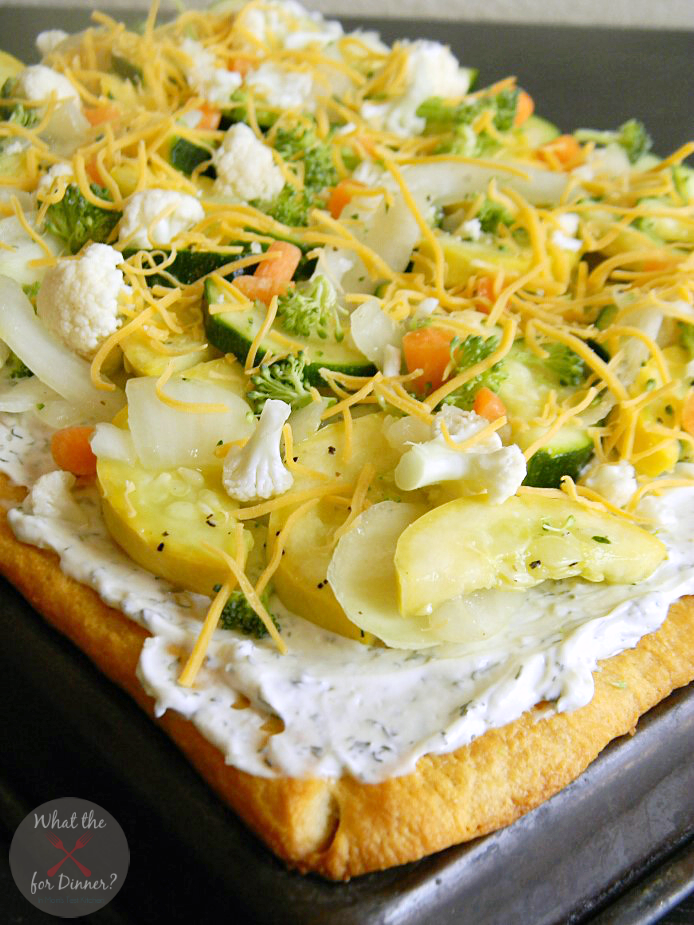 When I was digging into Lynn's recipes, trying to pick just one, I was having such a hard time. I've got strawberries in my fridge so I almost picked her Strawberry Pancakes with Mini Chocolate Chips. But then it's hard for me to say no to bacon so maybe Bacon Wrapped Chicken Bites with BBQ Sauce (even though these didn't get made for today's post – they will get made!). But then I found her Veggie Pizza and knew it would be perfect for our Saturday night movie nights! A snack food that's still hearty enough to be a meal.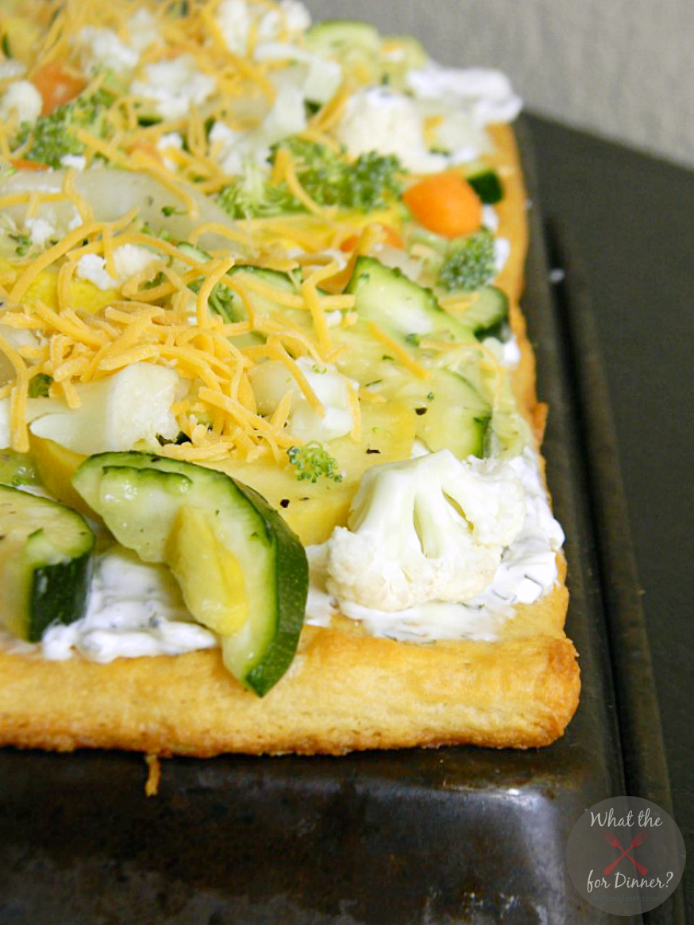 The thing I loved most about this Veggie Pizza is that instead of a cream cheese sauce which most Veggie Pizzas are made with & which I just really don't like, this one is made with a refrigerated veggie dip. So much better!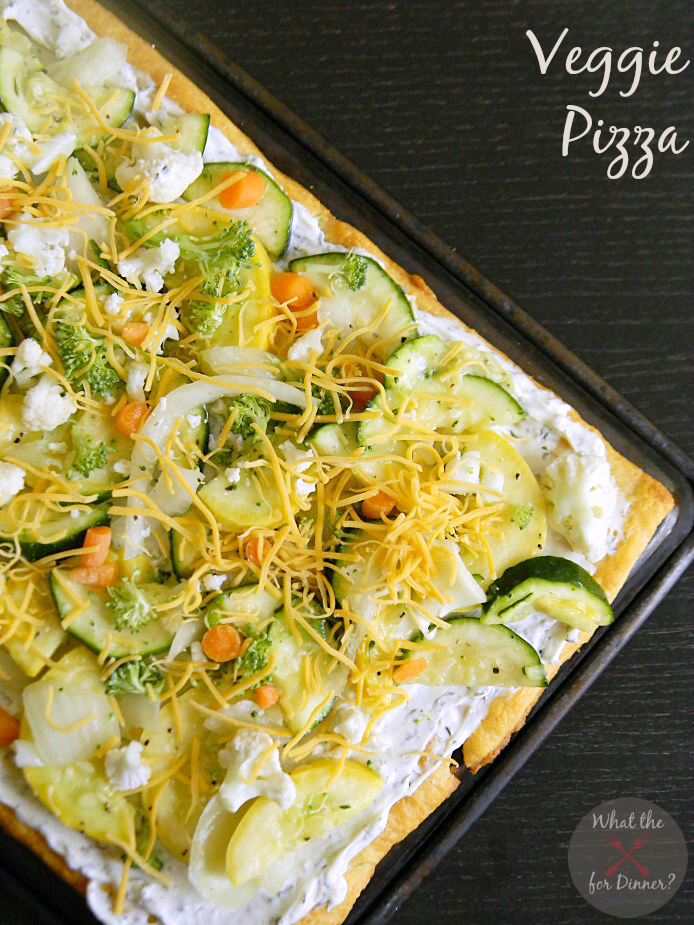 Veggie Pizza
can make a simple appetizer or a delicious make-ahead meatless supper
Ingredients
1

can

8 ounces refrigerated crescent rolls

1

container

15.5 ounces Marzetti Dill Vegetable Dip

Veggies for topping - I used squash

zucchini, onions, broccoli, cauliflower & carrots

finely shredded cheddar cheese
Instructions
Unroll the can of crescent dough and press in the bottom of an ungreased 9x13 cookie sheet to form a crust, pressing together the perforated edges. Prick dough lightly with a fork.

Bake at 375 for 10 minutes, watching carefully, until browned. Cool crust completely.

Spread the crust with the veggie dip, using as much as you like - I used right around 1/2 of the container. Layer the vegetables on top of the dip. Sprinkle with the shredded cheese, using as much or as little as you want - I probably used about 3/4 of a cup.

Cover loosely with saran wrap. Chill until ready to serve. Cut into squares.
RECIPE INSPIRED BY: Turnips 2 Tangerines