Pavlovas by Tara @ Noshing With The Nolands
I am here to celebrate Jaime's Blogiversary with this wonderful dessert. Jaime and I met through #SundaySupper. She has a wonderful blog as you already know and I am honored to be here to help her celebrate!!
I love making pavlovas in any shape or size. They are a bit healthier than some other desserts as they are very low in fat but who really cares about that when it comes to dessert and celebrating. I just love them and I love the fresh fruits you can add. This time of the year mangoes are looking good and pomegranates are still around. They make a gorgeous pairing and are a simple make ahead dessert that will wow your guests. Kid's love meringues too and they are very easy to make.
Happy Blogiversary Jaime!!!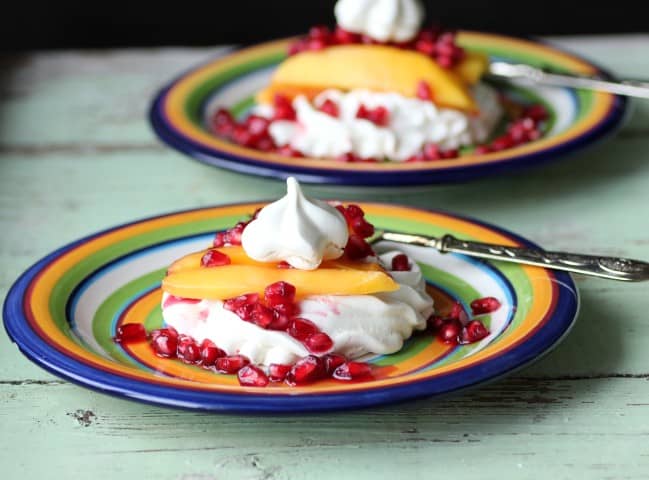 4 egg whites, at room temperature
1/2 tsp. vanilla
pinch of cream of tartar
1 cup berry sugar
Preheat oven to 225F. With a mixer beat egg whites until frothy and then add vanilla and cream of tartar. Continue beating adding the sugar in very slowly, maybe a Tbsp or two at a time. Continue to beat until stiff peaks form and the egg whites are glossy. Pipe or drop dollops onto a cookie sheet lined with parchment paper or Silpats, eight large 4-5″ rounds and 8 small 1 1/2″ tops. Make extra tops if you have more meringue left over. Bake for 1 hour to 1 1/2 hours until desired doneness. I like them a bit chewy inside.
For the topping
2 mangoes, sliced
1 pomegranate, seeds removed, juice reserved
Grenadine syrup, optional
Add a bit of grenadine to the pomegranate seeds and juice if they are not sweet enough. Just before serving put a large meringue on a dessert plate and top with mangoes and pomegranate seeds. Place the little lid on top and drizzle with the pomegranate juice. Serve at once.
If you like Tara's recipe, head over to
Noshing With The Nolands
and check out more of her amazing creations!! You can also stay up to date on her latest recipes by joining any of her social networks:
Tweet