Welcome to
Wonderful Food Wednesday- #42
Can you believe another week has already passed?!? How's everyone's summer started off so far? Anyone wishing it was already time for school to start back up?? 😉 I kid, I kid!
Y'all ready for another week of Wonderful Food Wednesday??! Thank you all so much for linking up each week! You have no idea how much the three of us appreciate each & every one of you helping make this party such a success!!
Want to be featured? Post your best and we'll pick a few of our favorites to feature each week. Check back next week to see if you've been featured on Wonderful Food Wednesday. If you're featured, your recipe will also be pinned to our Wonderful Food Wednesday Pinterest board.
Leave us a comment and tell us what you're cooking up!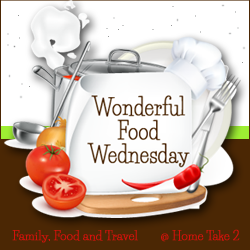 Ready for this week's features?
Last week y'all were all about the copycat & DIY recipes so this week we're breaking out of the norm for features & we're showcasing all of them!! That's right ~ this week we've got 7 amazing recipes to feature!!
*if we missed any other copycat or DIY recipes that were linked up last week, we sincerely apologize!!!!
5. MALL COPYCAT SOFT PRETZELS shared by Stumbling Upon Happiness
6. COPYCAT NO REALLY THOUGH WAFFLE shared by Cooking For The Seven Dwarfs
Be sure to stop by all of these fabulous blogs to check out these recipes and lots of others.
If you've been featured, feel free to grab our button and place it on your sidebar:
RULES:
*If you are a new follower please leave us a message/comment so that we can hop on over for a visit.
2. Visit as many blogs as you can, leave comments, follow and grab their recipes.
If you are interested in guest hosting for a week, please send an email to
twinstravelblog (at) gmail (dot) com