Welcome to another week of Mom's Test Meal Mondays!!
This week to get us ready for the Thanksgiving holiday we are talking all about pumpkin recipes! Sweet or savory, pumpkin is such a versatile & perfect ingredient for Thanksgiving Day. I can't wait to see y'alls favorites!
My wonderful co-host, Cindy from Vegetarian Mamma, is getting the party started with an amazing pumpkin muffin recipe! Not only does it contain chocolate chips but it's also GF!!
~~~~~~~~~~~~~~~~~~~~~~~~~~~~~~~~~~~~~~~~~~~~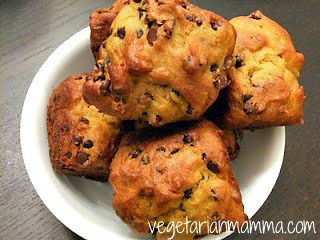 Okay, these little puppies are really good! I love chocolate and I love pumpkin! Put them together in an easy to make muffin recipe and you have perfection! I found this recipe on Moneysavingmom.com Please visit her site; you will fall in love with it! I did adapt her recipe by using dairy free butter and gluten free flour. I used Better Batter for the flour; I would highly recommend that as well! My recipe did contain eggs, that was the only allergen. So for us that means no soy, dairy, peanuts, gluten or tree nuts. Remember that this recipe originally had regular flour and butter. So we know it tastes good both ways! I really like that the recipe makes 2 dozen! Makes for some easy freezing cooking!! To see the recipe in original format, please click HERE.
Here is my adapted recipe:
Ingredients
4 eggs
2 cups sugar
1 (16 oz.) can pureed pumpkin
1 1/2 cups oil
3 cups flour (we used Gluten free Better Batter)
2 teaspoons baking soda
2 teaspoons baking powder
1 teaspoon ground cinnamon
1 teaspoon salt
1 package chocolate chips (we used Enjoy life, allergen free)
Instructions
In a large mixing bowl, beat eggs, sugar, pumpkin and oil until smooth.
Add in dry ingredients and mix well.
Stir in chocolate chips.
Lightly spray your muffins tins with oil. Fill each muffin spot 1/2- 3/4 full.
Bake 16-20 minutes at 400 degrees. (Mine were actually done at 14 minutes) Be careful…they burn quickly!
Have you ever had a pumpkin muffin?
~~~~~~~~~~~~~~~~~~~~~~~~~~~~~~~~~~~~~~~~~~~~~~~~~~~~~
Remember this week's theme is Pumpkin Recipes.
The party is open to any and all of your favorite recipes, but only recipes that fit the theme will be featured at the end of the week. 🙂
Myself & Cindy would love to have you as new friends!! Please take a minute to follow us both via GFC, Twitter, FB, or any other social media you prefer

You are welcome to link up any recipe you like but only recipes that are consistent with the week's theme will be featured at the end of the week.

Please feel free to grab the button in the sidebar or add a direct link back to the week's party that you are linking up to

And finally, go make some new friends ~ spend a few minutes checking out some other recipes that you might want to try out yourself & comment! Everyone loves comments!!

Please note that by linking up you are giving permission to use the photos along with a link back to your post in the Mom's Test Meal Mondays Features post & on Mom's Test Kitchen's Social Media Networks
And remember, if anyone is interested in being a co-host for Mom's Test Meal Mondays, please email me at momstestkitchen (at) yahoo (dot) com! I'd love to have you!


Tweet