Happy Christmas Eve Eve y'all!!!
I can't believe it's less than 48 hours before Santa makes his appearance!!  I'm so excited!!  I'm still such a kid when it comes to Christmas!  I still can't sleep in Christmas morning.  Growing up my parents eventually made the rule that I wasn't allowed to come out of my room Christmas morning until after the sun had come up!
This week we are sharing our favorite holiday recipes!  What foods do you love to eat for Christmas, Hanukkah, Kwanzaa or any other reason you celebrate this time of year?  My wonderful co-host Marie from Listening Rather Than Speaking is here sharing a perfect Christmas treat!!
~~~~~~~~~~~~~~~~~~~~~~~~~~~~~~~~~~~~~~~~~~~
 
The holidays to me screams COOKIES, CANDY, AND SWEETS. 
I found this recipe on http://allrecipes.com, a long time ago. 
I tried making them and they came out amazing! 🙂  I wanted to share this recipe with you!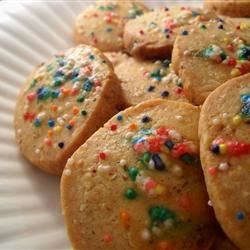 Hazelnut Christmas Cookies
Original recipe makes 48 servings
Ingredients
 1/2 cup butter, softened  1/2 cup white sugar
 1 egg   1/2 teaspoon salt
 1 1/2 cups all-purpose flour, sifted  1/4 teaspoon baking soda
 1/2 cup ground hazelnuts  1 egg, beaten
 1/4 cup multicolored candy sprinkles (jimmies), or amount needed (optional)
PREP 15 mins
COOK 12 mins
READY IN 8 hrs 27 mins
Directions
1. Beat the butter, sugar, egg, and salt together in a mixing bowl until light and fluffy. Stir in the flour and baking soda, and mix just until blended. Mix in the hazelnuts.
2. Turn the dough out onto a lightly floured surface and shape into 2 1/2 inch log. Wrap snugly in wax paper, and refrigerate overnight.
3. Preheat oven to 375 degrees F (190 degrees C). Lightly grease baking sheets.
4. Unwrap, and cut the log into 1/8 inch thick slices. Place on prepared baking sheets 2 inches apart.
5.Brush tops with beaten egg and, if desired, decorate with sprinkles.
6. Bake in preheated oven until edges are lightly browned, 12 to 15 minutes. Cool on racks, and store in an airtight tin.
SO WHAT ARE YOU WAITING FOR! 
&&
HAPPY HOLIDAYS!

~~~~~~~~~~~~~~~~~~~~~~~~~~~~~~~~~~~~~~~
Remember this week's theme is Holiday Favorites.
The party is open to any and all of your favorite recipes, but only recipes that fit the theme will be featured at the end of the week. 🙂
Myself & Marie would love to have you as new friends!! Please take a minute to follow us both via GFC, Twitter, FB, or any other social media you prefer

You are welcome to link up any recipe you like but only recipes that are consistent with the week's theme will be featured at the end of the week.

Please feel free to grab the button in the sidebar or add a direct link back to the week's party that you are linking up to

And finally, go make some new friends ~ spend a few minutes checking out some other recipes that you might want to try out yourself & comment! Everyone loves comments!!

Please note that by linking up you are giving permission to use the photos along with a link back to your post in the Mom's Test Meal Mondays Features post & on Mom's Test Kitchen's Social Media Networks
And remember, if anyone is interested in being a co-host for Mom's Test Meal Mondays, please email me at momstestkitchen (at) yahoo (dot) com! I'd love to have you!
Tweet