Why is it beginning to smell alot like cookies?
It's because we're having a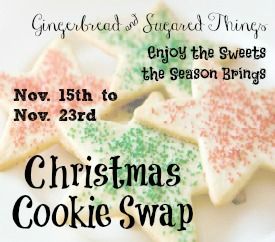 I was so excited when Julie from
White Lights on Wednesday
came up with this brilliant idea!  I didn't even think twice about participating!!  What could be more fun than getting together (virtually) with a bunch of friends, exchanging your favorite Christmas cookie recipe & then baking?!?  Well that's what we're going to do! 
So let me first introduce you to the wonderful group of ladies that I'm co-hosting this bash with: 

So here's the deal if you want to party.  Click the sign-up button below, fill out the form, and get ready to mail out your favorite Christmas cookie recipe.  
*

There is a place to note if you have food allergies or dietary preferences in your house that your sender should be aware
 of (your partners will have the same diet preference
s
 as you, if possible).
Everyone will snail mail their recipe to their assigned partner.  The person you send a recipe to will not be the same person you receive a recipe from.
By signing up you agree to mail a hand written copy of your cookie recipe to your recipient.  You also agree to make the recipe sent to you and share photos and the recipe in a blog post.  
If you do not have a blog, you can still participate!
Simply send your photos, recipe, and thoughts on the experience to whitelightsonwednesday@yahoo.com and one of the co-hosts will share your "post" on their blog.
Are you ready to start baking & get in the Christmas cookie spirit?
SIGN UP BY CLICKING THE BUTTON BELOW
{Sign Up is open through Nov. 23rd at 11:59pm}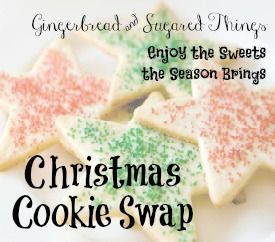 Sign Up begins Nov. 15th, 2012
Sign up ends Nov. 23rd, 2012
Participants will recieve an email with their pairing info on or around Nov 26th, 2012
Snail mail recipes to partner no later than Nov. 29th, 2012
Posts go live – Share the recipe you received & the cookies you made Dec. 13th, 2012
Tweet